Cyclo-cross World Cup: Britain's Nikki Harris wins bronze
By Nick Hope
BBC Olympic sports reporter in Milton Keynes
Last updated on .From the section Cycling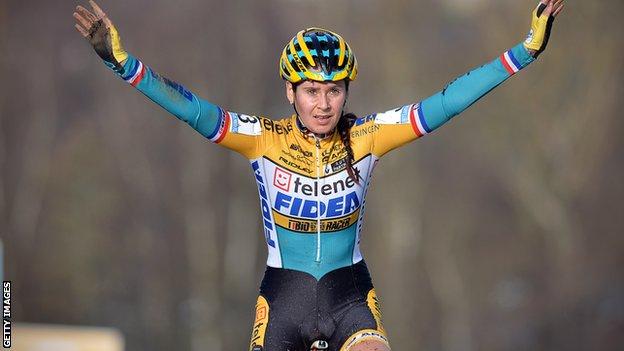 Britain's Nikki Harris finished an impressive third in the first cyclo-cross World Cup event to be staged in England.
Harris, 27, who won the British title in 2013, finished 32 seconds behind Belgian winner Sanne Cant and runner-up Katherine Compton from USA.
The British cyclist completed the muddy course in 45 minutes 58 secs.
"It was amazing, with a fantastic course and so much support," Harris told BBC Sport.
International cyclo-cross, where competitors alternate between riding and carrying their bike as they make their way around a combination of cross-country and 'road' sections, was last held in the UK in 1992, when Leeds hosted the World Championships.
Over 6,000 tickets were sold before the Milton Keynes event, with the number of spectators visiting Campbell Park believed to be closer to 10,000 on the day.
"I've never experienced a crowd like it before, it was more like a World Championships and lets hope we can see more events like this in the future," said Harris.
Eight-time British champion Helen Wyman fell several times during the race but battled to a hard-earned eighth - 1:09 behind the winner.
What is cyclo-cross?
•
Founded in late 19th century by French soldier Daniel Gousseau, who rode his bike over rough trails and difficult obstacles to maintain cycling fitness during the winter
• A typical course is between 2.5km and 3.5km and should have paved roads, forest and field sections, plus obstacles to break the rhythm of the rider
•
A men's race lasts about an hour, while women compete for about 40 minutes
• The UCI World Championships were introduced in 1950
"I genuinely cannot describe the noise, it was more like what it must have been like during the Olympics," she told BBC Sport.
"Everyone's been so positive and hopefully we can see these races in the UK become a more regular thing."
Compton looked to have secured the win in the closing stages, but Cant just edged out her rival in a sprint finish, with both cyclists given the same finishing time.
In the men's event Cant's team-mate Kevin Pauwels took the victory ahead of countryman Klaas Vantornout and Frenchman Francis Mourey, with GB's Ian Field 12th.
"This sport can be really tough because we're unfunded in the UK," Field told BBC Sport.
"Without my personal sponsors I wouldn't be here, but we've put on such a great show and it would be interesting to see what we could achieve with more support in the future."
The next cyclo-cross World Cup event takes place in Namur, Belgium, 21 December.