Alberto Contador: I could have died in Tour de France crash
By Matt Slater
BBC Sport in Gran Canaria
Last updated on .From the section Cycling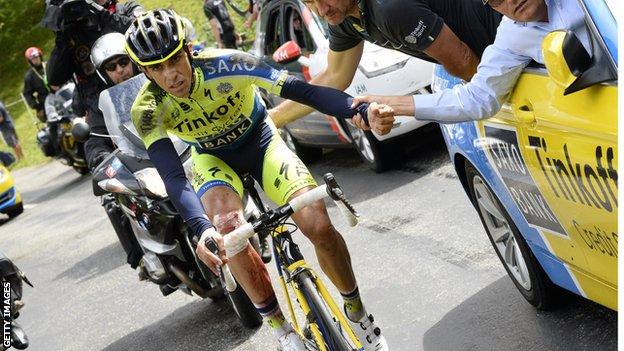 Alberto Contador is not bitter about crashing out of this year's Tour de France because he knows it could have been worse: he might have died.
The Spanish star broke his right tibia, or shinbone, during the Tour's 10th stage, and after riding on for nearly 20km, he eventually gave up.
"When I think I was going 77kmph at the time and I only broke my tibia, well, on balance, that's good," he said.
"Maybe I lost the Tour, but I didn't lose my life."
Contador's exit came less than a week after 2013 winner Chris Froome was also forced to retire injured following three crashes in two days.
The two rivals had come into the sport's biggest race as joint favourites, but while Froome's withdrawal was dramatic it lacked the genuine risk of serious injury that Contador's crash entailed.
The 32-year-old was a third of his way into the 161.5km stage through the Vosges Mountains when he came down hard on a fast, straight descent made trickier by rain.
Speaking to the BBC at his team Tinkoff-Saxo's training camp in Gran Canaria, Contador admitted the crash was his fault but denied he was trying too hard to make up time lost earlier in the race.
"A lot of people have spoken about the crash and said things that aren't true," he said.
"What I will say is you've got to concentrate for every second on the bike or you won't win the Tour.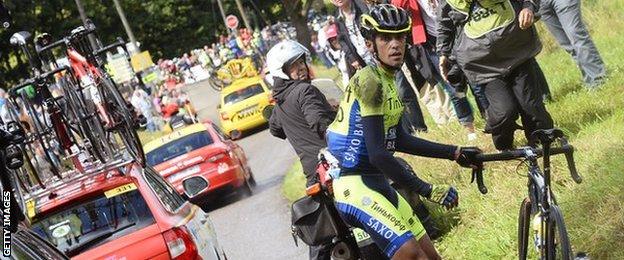 "At that moment, I relaxed, I looked ahead, saw the road was clear and reached back into my pocket to get something to eat. That's when I hit something in the road, my bike jumped and I lost control."
The Madrid-born rider explained how he initially thought he had escaped with surface wounds but after a few seconds it became clear that his leg was badly hurt.
A doctor bandaged his leg just below the knee at the roadside, and he was given a new bike and left shoe by his team.
But half an hour later, having tried bravely to stay in the race, he said goodbye to his team-mates and climbed in the team car.
"The problem wasn't the pain from my tibia, it was the thought that I was in great form but couldn't carry on," he said.
Contador had started that morning four minutes off the lead in ninth place, but crucially just two and a half minutes behind his main rival for the yellow jersey, Vincenzo Nibali, after the Italian's superb ride on the cobblestoned stage that accounted for Froome.
2015 Grand Tours
Giro d'Italia: 9-31 May
Tour de France: 4-26 July
Vuelta a Espana: 22 Aug - Sept 13
That was not a deficit that worried Contador, though.
"When I lost that time on stage five I was relaxed," he said.
"I knew my condition - how I had worked harder before the Tour than I had ever worked in my career - and I knew the Tour is very long.
"When I finished on the cobblestones and analysed it, I was positive - 2.30 was fine.
"I can't say that I would have won, but I know I would have challenged. In my opinion, the favourite was Froome, and if we had stayed in the race we would have had a great battle in the mountains."
Without his two main rivals, Nibali dominated in the mountains and won the Tour by a distance.
But cycling fans' loss became the Vuelta's gain when both Contador and Froome declared themselves fit for the season's final Grand Tour four weeks later.
And it was Contador who recovered best, taking the lead at the halfway stage in Spain and holding off Froome's challenge in a thrilling final week that gave audiences around the world the mano a mano racing they had been hoping for at the Tour.
For Contador, it was a third Vuelta victory to go alongside his two Tour wins and Giro triumph in 2008 (he was stripped of two more Grand Tour wins when he failed a drugs test at the 2010 Tour), but it was also the perfect riposte to the beating that Froome administered at the 2013 Tour.
The British rider must now reassert himself over Contador if he is to have any chance of adding to his palmares, and fans are wetting their lips at the prospect of a classic confrontation at next year's Tour between this pair, Nibali and Giro champion Nairo Quintana.
"It's crucial for the sport that the strongest riders race against each other in the best races," said Contador.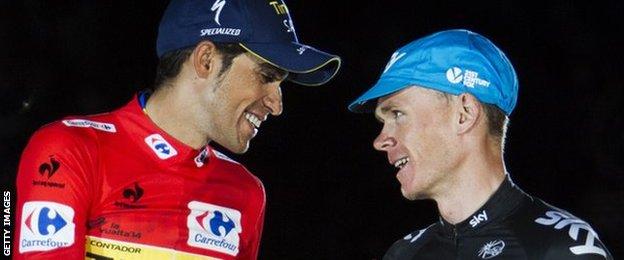 "I think the Tour lost a little when Froome and me crashed.
"Some people have said (next year's route) isn't for Froome because there's no long time trial and it's more for the climbers.
"But Froome isn't a climber? Of course he is a climber.
"He was the best climber in 2013 and I still think he's the favourite for next year."