Sir Bradley Wiggins: Inside the mind of a world-class cyclist
Last updated on .From the section Cycling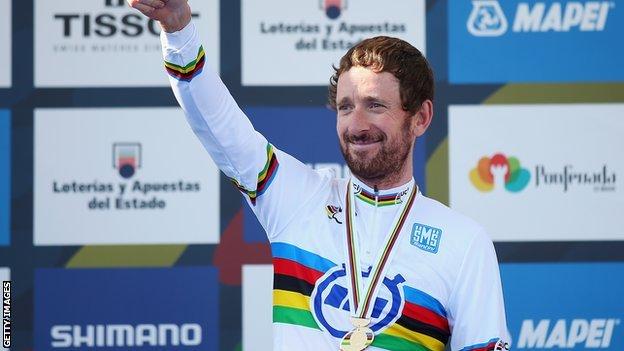 Sir Bradley Wiggins knows a thing or two about overcoming the physical and mental challenges in sport.
This year he added the road world time-trial title to his achievements, adding a rainbow jersey on the road to the six he has won on the track.
As part of a BBC Radio 5 live special - Mind of a Cyclist - broadcast on Thursday, 18 December, Wiggins tells former Great Britain team-mate Victoria Pendleton about the psychology behind his rise to the top.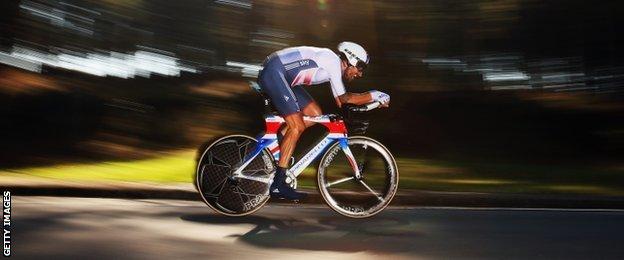 Be ambitious - from an early age
Why did I first get involved in cycling? It was my love for the sport. When I was about 12, I decided that all I wanted to do was be a professional cyclist and all I wanted to do was wear the yellow jersey in the Tour de France and win an Olympic gold medal.
At that age, I never really thought about how realistic those goals were. I'm not sure if I really believed in them but at the time it was a fantastic excuse to get out of everything else I had to do at that age, which was concentrate at school, behave myself and all those things.
I remember one day at school, when I was 12, I was misbehaving, as I usually did on a daily basis. My art teacher at school, St Augustine's in Kilburn, dragged me to one side and asked me: "What are you going to do with the rest of your life Bradley? You can't go through it like this."
I said 'I want to wear the yellow jersey and win an Olympic gold medal' and she said 'that's crazy', because how many kids from Kilburn did that? It all sounds very poetic now but that is exactly how it happened. And here I am today. It would make a great film. That was 22 years ago now.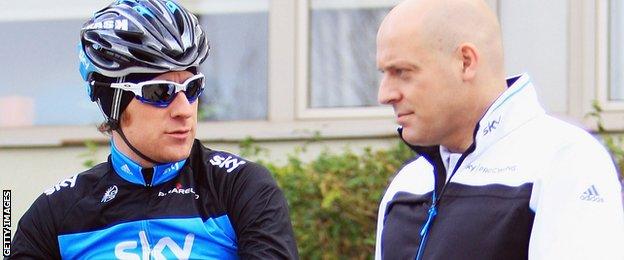 Be ahead of the game
I love the mundane part of the sport. I love the romance of doing the training, which is the bit that no-one sees. That might be a 5am gym session or an 8am session in the velodrome before anyone else comes in.
I've liked the feeling of being slightly ahead of the game and that goes back to being a kid. When I was 17, I rode from London to Rye on the south coast on Christmas Day where the family were staying at Pontins.
They drove and I rode the 86 miles. Nan was cooking Christmas dinner. I remember thinking the World Junior Championships were the following August and none of my competitors would be doing this on Christmas day. I loved the idea of it. That's my motivation.
Distract yourself on the bike
I try to trick myself to deal with the repetition of training or racing. I've always thought I knew my children were watching me. I have had my children's initials tattooed on my hand because when I'm time-trialling, I lock my hands together behind the handlebars, and I can see Ben and Bella on my thumbs. It's like a distraction thing.
I never worked with Steve Peters that much because I never felt he helped me; I felt he made it more complicated. I never agreed with his chimp theory, which has become so famous. I always thought it was a distraction from who you were as a person.
Based on that theory, if someone had a go at you, particularly in the track environment, it was like, 'Just ignore him, it's his chimp talking'. I always had a problem with that, I was like, 'No it's not. It's Shane Sutton and he's being horrible to me!'
I always struggled with that so I had to find my own ways of dealing with things. The only way I ever dealt with it was [knowing] my kids would always perceive me in the same light, no matter what happened. That was my outlet. It's stood me in good stead the last five years.
Think rationally when it's hurting
When you're out there on the road and you hit a mountain or one of your team-mates is attacking, it's at those moments that you start relating back to the training you have done.
If it's hurting me, you think it's going to be hurting the others, because I know how hard I have trained for this. If I had to do five efforts in one session and I've done four but don't want to do the fifth, I say to myself, 'Pull it out. Do it because you know your rival probably didn't do the fifth.'
On a climb, especially if it is an hour long, and you're hurting, you have to think that this poor sod behind me is going to be hurting, too. You're thinking logically. When you look at the sacrifices you have made, that's when you start thinking rationally.
I would say that more of being a Grand Tour rider is mental, but that is not to undermine the physical aspect of it. So much of cycling is about being fit to do a purpose.
I'm fanatical about rugby league and 90% of what they focus on is the tactics and mental challenges. The fitness part is 10% - and they do that almost as a given. In cycling, it's the other way round. You just concentrate on being fit enough.
Very little is given to the mental side of things and in preparing yourself for when you get into the arena, whether that's track cycling or road cycling. It has been under-played for many years.
In the Tour de France, you can be the best rider in the world, but if you crack under the pressure mentally, the race is gone. In that race, you have to be within a couple of per cent of your best, day in, day out, for three weeks. If you're not, then it's finished.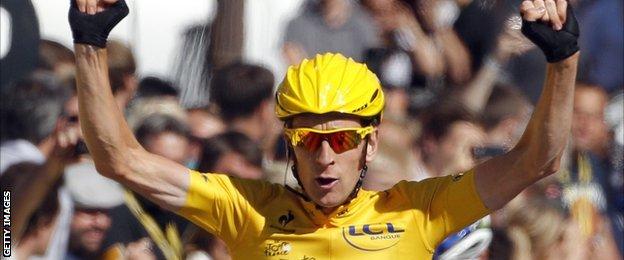 Learn how to bluff
In something like the Tour de France, without a doubt you tried to hide the pain. It's as much about destroying your competitors' morale.
I remember at one point in the 2009 Tour de France, we were climbing to Andorra in the first mountain-top finish and there were a select group of us about 5km from the finish at the summit.
I remember turning round and seeing my team-mate Dave Zabriskie, an American rider, who was still in the group. I was suffering but I pretended for one second that I wasn't. I looked at him as if I was just looking for a pint of milk on the top shelf in the supermarket.
He looked at me, as if to say, 'Is this guy for real?' and then I remember looking forward again and grimacing in pain. That evening at dinner, he said: "Dude I looked at you and I thought, 'Is this guy even trying?'" Those moments can break an athlete, especially when you're climbing.
I was going toe-to-toe with Lance Armstrong. He was always talking to me on these climbs. His tactic was to talk to you as if you were his best friend. Then he'd slip the knife in your back. He was the master of that. In some ways you learn from that.
On the track or in the time-trial, there is no-one around you, so you are suffering in your own world and it becomes a different challenge. You can show the world you're suffering because it doesn't matter.
You always have a camera on you when you're in the mountains, and you know that footage is going back to a team car, where Lance or Alberto Contador's manager is watching that, telling their riders that Wiggins is struggling so they should attack.
Bluffing is a massive part of the Tour de France.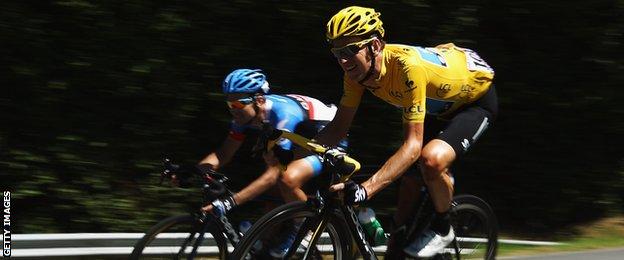 Be calculating when the heat is on
When it comes to descending down a mountain during a stage race, I always ask myself if it is worth the risk. If it is not, I'll lose 30 seconds and catch it up on the next mountain.
I'm always thinking of the consequences of my actions. Some riders don't do that; they just live in the moment. People say I have no panache, but I'm very calculating in what I do.
When we're in the heat of the moment, I'm very business-like. There are two sides to me: the emotional character who loves sport and the one who is calculating.
Panache is great, but at the end of the day I probably wouldn't be where I am today if I was like that.
You can listen back to Pendleton's show, which includes the full interview with Wiggins, via the BBC Radio 5 live podcast.