Oleg Tinkov: Tinkoff-Saxo owner cycling's cheerleader for change

Last updated on .From the section Cycling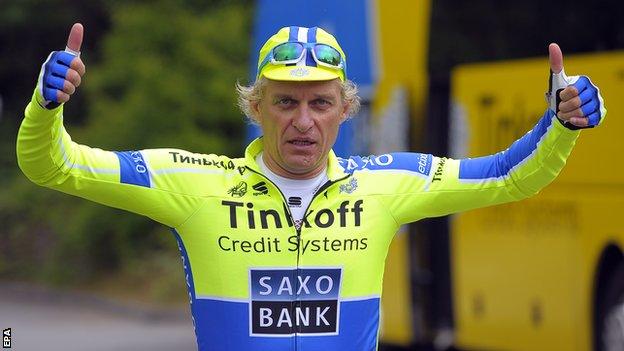 "The problem with continental Europeans is they are stuck with their old paradigms. They do it because their fathers did it, and their grandfathers did it. They don't want to change."
We have been chatting for 15 minutes and I have asked Oleg Tinkov four questions, five if you include the ice-breaker about his journey to Gran Canaria (he came by private jet).
But Tinkov, the "serial entrepreneur" whose career has seen him go from bike racing, to importing electronics, flogging frozen food, brewing beer, issuing credit cards and then back to bike racing - this time as the owner of cycling's Galacticos, Tinkoff-Saxo - is just warming up.
He is also from Siberia - more north Asian than continental European - and his father was a miner. So he is fine with change.
The British, he continued, are capable of change, too, which was good to hear, but continental Europeans won't budge. That is why cycling's three "Grand Tours", the Giro d'Italia, Tour de France and Vuelta a Espana, are too long for anybody to realistically think about trying to win all three in a calendar year.
Nobody has ever done it, and only nine riders have won two, with Tinkov's star employee Alberto Contador being the last to do so in 2008.
But none of those nine completed that season's other three-week epic and only 32 men have even finished all three in a year. Of those, only two claimed a set of top-10 finishes, and the last of those was 57 years ago.
Carlos Sastre is the last man to ride all nine Grand Tour weeks in a season as a contender, and he did it twice, in 2006 and 2010, bagging two fourth-place finishes, two eighth-place finishes, a 20th and a 43rd.
But when he rode just two Grand Tours in 2007, 2008 and 2009, he won one, finished second twice and third once. Less is more, right?
To put it another way, four riders have won five of the last six Grand Tours - Contador, Team Sky leader Chris Froome, Vincenzo Nibali of Astana and Movistar's Nairo Quintana. They are not called "The Big Four" for nothing.
'The Big Four' - time in the saddle

Name

2013

2014

Alberto Contador

(Spain, age 32)

Raced 10,916km over 68 days, including 21 in Grand Tours

Raced 10,303km over 66 days, 30 GT days

Chris Froome

(GB, age 29)

Raced 9,296km, 62 days, 21 GT days

Raced 8,053km, 54 days, 25 GT days

Vincenzo Nibali

(Italy, 30)

13,854km, 85 days, 42 GT days

11,794km, 73 days, 21 GT days

Nairo Quintana

(Columbia, 24)

10,525km, 66 days, 21 GT days

9,423km, 61 days, 31 GT days

*Average 10,520.5km, 66.9 days, 26.5 GT days
If you look at their last two seasons, each has raced, on average, 10,521km, over 67 days. That is, more or less, the total distance and duration of all three Grand Tours.
"OK, I understand that three-week races with just five weeks between them are extremely tough," Tinkov agreed, in heavily accented but perfectly fluent English.
"But the solution could be shortening the stages, or the whole race, or perhaps just leave the Tour at three weeks.
"It's up to the authorities to decide, but I don't see the point of three weeks, to be honest. Why three? I don't see any trouble in shortening them all to two weeks.
"Of course, it's just my…noise," he added, reaching for the right word. "And I can't do anything about it. But we, as fans, want to see the strongest against the strongest."
Tinkov is right about that. Cycling fans are desperate for more of what golf, F1 and tennis provide on a regular basis, but he is wrong to say he cannot do anything about it.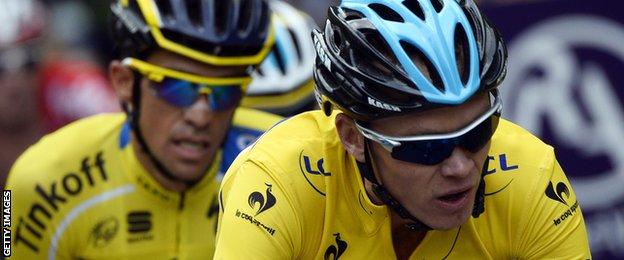 Three months ago, he put his money where his mouth is by asking Froome if he would consider a "Grand Tour Challenge" against Contador, Nibali and Quintana.
Froome, according to Tinkov, said "everything has its price", to which the self-made oligarch replied, "OK, how does 1m euros sound?"
This conversation took place at the Vuelta's podium presentation, the climax of 2014's best stage race, a ceremony that saw Contador on the top step, Froome on the second. You cannot fault Tinkov's timing.
Froome, for what it is worth, said he liked the idea, only to later decide to skip the 2015 Giro to focus on the Tour (he will see what he has left in the tank for the Vuelta), matching the choices made by Nibali and Quintana.
Of the A-listers, only Contador, Tinkov's man, has said he will be at the Giro and Tour, with only Tinkov saying he should also be at the Vuelta.
"That will make it more difficult for Alberto to win the Tour, after he's hopefully won the Giro, which is unfair," Tinkov explained regretfully. "So how do we know who is the best?"
'Big Four' - recent Grand Tours (DNE = did not enter)

Name

2012

2013

2014

Alberto Contador

(Tinkoff-Saxo) - 6 GT victories

Banned from Giro & Tour. Won Vuelta.

DNE Giro or Vuelta. 4th in Tour.

DNE Giro. Withdrew from Tour. Won Vuelta.

Chris Froome

(Team Sky) - 1 GT victory

DNE Giro. 2nd in Tour, 4th in Vuelta.

DNE Giro or Vuelta. Won Tour

DNE Giro. Withdrew from Tour. 2nd in Vuelta.

Vincenzo Nibali

(Astana) - 3 GT victories

DNE Giro or Vuelta. 3rd in Tour.

Won Giro. DNE Tour. 2nd in Vuelta.

DNE Giro or Vuelta. Won Tour.

Nairo Quintana

(Movistar) - 1 GT victory

DNE Giro or Tour. 36th in Vuelta.

DNE Giro or Vuelta. 2nd in Tour.

Won Giro. DNE Tour. Withdrew from Vuelta.
For some, the answer to that is purely subjective - the stuff of long arguments about panache and palmares - but others try to apply more objectivity to it, like the International Cycling Union (UCI) and its WorldTour rankings.
The governing body's opinion, however, is given no more credence than anybody else's: did Joaquim Rodriguez have a better 2012 than Sir Bradley Wiggins, or a bigger 2013 than Froome?
The confusion is both a symptom and a cause of the default position many take: who won the Tour?
But Tinkov did not buy a cycling team to have a debate.
A decent sprinter as a young man, the 47-year-old wants certainty, and a proper contest to find the best could be the push cycling needs to break free from the minority-sport pack.
"It's a big tragedy for the sport - cycling is so big and yet so small," said Tinkov, whose first act upon arriving in Gran Canaria was to go out for a ride.
"When you look at the fans and viewers, it's one of the biggest in the world. But when it comes to money it's one of the poorest. We need to commercialise the sport better."
Which brings us to Velon, the joint venture set up last month by 11 of the sport's 17 top-tier teams to…well, we are not quite sure.
And neither is Tinkov, despite being its most enthusiastic cheerleader.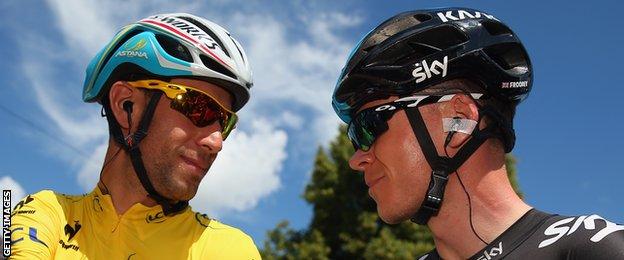 "It's premature to say too much about this because it's so new," he explained, kind of. "But we have supported it from the very beginning and it's very important.
"It's already achieved something with the plan to put cameras on bikes and in cars, and I believe very soon it will be a good representative for the teams in talks with the governing body and race organisers.
"I can't say too much, though; not because I'm hiding anything, but because nothing has really happened yet."
Again, Tinkov is right, and wrong.
Nothing has changed yet, which is unsurprising given Velon's youth.
But the fact that two-thirds of the peloton have formed a company, with a chief executive recruited from football, and a remit to fix the teams' utter dependence on sponsors, is significant. In fact, it is almost war.
Tinkov nailed it when he said there is just not that much money in the sport, and what money there is flows to the race organisers first: ASO, the French family firm which runs the Tour, Vuelta and a dozen other races, and RCS, which owns the Giro and a clutch of Italian races.
Teams come, combine or disappear every year as sponsors enter or leave the sport, but ASO and, to a lesser extent, RCS sail on calmly, confident the stars will always find a team and that team will want to ride in their races.
That is not a business model Tinkov can tolerate for long. He has tried asking ASO nicely to share its revenues (it declined), and he will now support Velon's attempt to create a new market for bike-camera footage and rider data.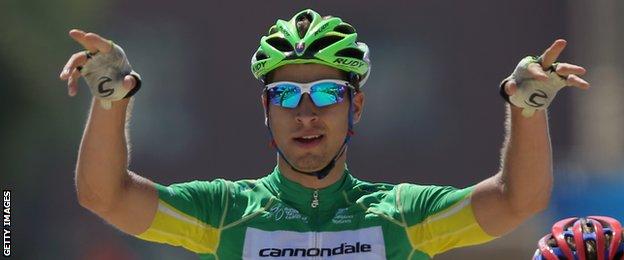 But most of all he wants every broadcaster's favourite buzzword, a narrative, and that means a simpler calendar punctuated by races the best cannot skip or coast through.
And he is far from alone in thinking this is a good idea.
Former UCI president Hein Verbruggen once told me he could take or leave the Grand Tours' middle weeks, and thought the Vuelta needed some serious surgery.
Michele Acquarone, who used to run the Giro for RCS, went even further recently, bemoaning cycling's financial weakness, its need for a "season with a start and a finish, with winners and losers" rather than "just a meaningless jumble of events".
"I'm not surprised cycling is a niche sport, it's a miracle it's still alive," he wrote, calling for fewer races, but races that matter, races the best riders cannot and do not want to duck. And that means three two-week Grand Tours.
"It's going to be a huge opportunity for everybody, even for ASO and RCS," he added, somewhat optimistically, as neither body wanted to comment on the subject.
Not everybody at Tinkoff-Saxo has read the boss's memos, though, as both Contador and two-time Giro winner Ivan Basso, a new recruit in 2015, told me they did not want Grand Tour fortnights.
"In my opinion, the Grand Tour is three weeks," said Contador. "It has always been like this, and if we change this, we change cycling."
That is the problem with continental Europeans.
But Tinkov does have another prominent ally, Team Sky principal Sir Dave Brailsford. There is a certain irony to this coalition of the willing, though: Tinkov has set himself up as the anti-Brailsford.
Sky ride conservatively to a sport scientist's plan, Tinkoff-Saxo race instinctively; Sky say ex-dopers cannot work for them, Tinkoff hire all the good staff they have to let go; Sky wear dark colours, Tinkoff wear day-glo yellow…and so it goes on.
"You have to have a good rival," admitted the Siberian, who regularly talks and tweets about Team Sky. "It's not interesting to fight with a weak enemy. Sky gives us that strong motivation; and I think we do for them. You have to fight.
"That's good for cycling, like it is in business. Because whenever you get a monopoly the customers get less satisfaction. When you get a situation like Coca-Cola and Pepsi, the consumer wins. We think cycling fans are winning."
So it is not personal, Sir Dave, it is only business, and if that sounds too much like The Godfather for comfort, Tinkov will not mind.
He is in this to win it - win it all - and he cannot understand why others do not want that, too.