Team Sky: Sir Dave Brailsford annoyed by UCI's Astana inaction

Last updated on .From the section Cycling
Team Sky boss Sir Dave Brailsford has accused the new leadership at cycling's governing body of failing its first big test in the fight against doping.
Many in the sport hoped new UCI president Brian Cookson would take a tougher line against serial offenders.
"The UCI governs this sport, so they need to deliver," said Brailsford, 50.
"Great leaders don't find excuses why they can't do something. Sometimes you've got to get over obstacles and find ways of doing things to get to a new place.
"If you're in charge, you have to have rules and the leadership skills to deliver a credible sport."
Brailsford added Team Sky would "play our role as much as we can".
Cookson was formerly in charge of British Cycling, where Brailsford spent 17 very successful years.
Cookson, the 63-year-old Lancastrian, became UCI president in September 2013, ousting controversial incumbent Pat McQuaid.
He presented himself as the best candidate to lead the sport away from its troubled history with drugs but his credentials as a reformer took a knock when Astana's World Tour licence was renewed last month.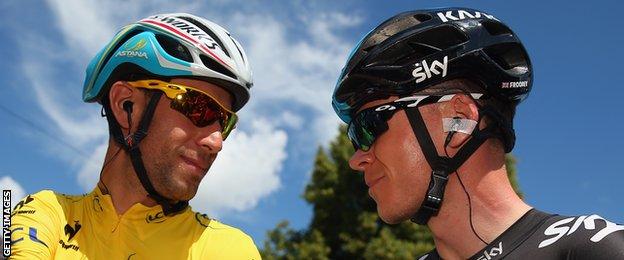 The Kazakh-based squad is on probation - and its anti-doping practices are subject to external review - after two positive tests at World Tour level, and three more in the development team.
Frustration at the UCI's inaction is compounded by the fact the governing body was in a similar situation with Russian team Katusha only a year earlier.
On that occasion, the licence was withheld, only for Katusha to win an appeal against the decision at the Court of Arbitration for Sport.
Team Sky rider Chris Froome agreed with Brailsford, saying the UCI must be stricter with teams in which there are "multiple positives".
"This sport has a lot of headway still to make, and the UCI are the ones to guide that," said the 2013 Tour de France winner.
The governing body has just strengthened its rules against teams that have more than one positive.
If two riders fail tests within 12 months, the team is suspended for between 15 and 45 days, and if a third rider is caught the ban could be one year.
Brailsford welcomed those changes but said he wanted the UCI to go further and faster.
"If we want to be the best team in a certain sport, you need that sport to be credible," he said.
"We'll do our bit but we want everybody else to do their bit, particularly those who govern the sport.
"I don't think you can go at a lazy pace with these things. You've got to for it."