BBC Sport - Team Sky: coffee and omelettes the perfect cyclist's breakfast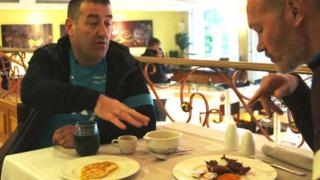 What does a cyclist eat for breakfast?
BBC Sport's Matt Slater catches up with Team Sky nutritionist Nigel Mitchell to find out the ideal breakfast for a cyclist before a big ride.
Mitchell suggests porridge with banana, an omelette and espresso along with a vegetable "greens" drink in order to properly prepare a cyclist for the gruelling ride ahead.