Team Sky's Chris Froome spurred on by Alberto Contador rivalry
Last updated on .From the section Cycling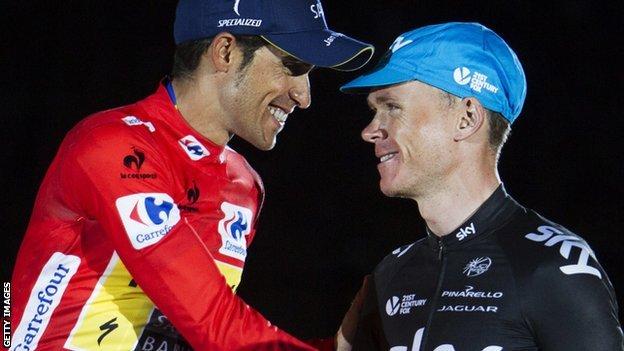 Chris Froome says he cannot show any weakness to his great rival Alberto Contador when the Briton tries to win his second Tour de France.
"When I'm out training, I'm thinking, 'I wonder what he's up to today, I wonder how hard he's training'," Froome said at a pre-season training camp.
"Alberto can smell weakness. He can smell it when you're having a bad day."
This year's battle for the yellow jersey starts in Utrecht, Netherlands, on 4 July and ends in Paris on 26 July.
In 2013, Team Sky's Froome, 29, stunned Contador with a superb display to seal his maiden Tour de France victory.
The 32-year-old Spaniard, who rides for Tinkoff-Saxo, has won the Tour twice before and beat Froome to take last year's Vuelta a Espana - the third and final three-week Grand Tour of each year.
But the 2014 Tour de France was one to forget for the pair as both had to withdraw after injuring themselves in crashes. Italy's Vincenzo Nibali went on to take the title.
Contador, who won the Tour in 2007 and 2009, was stripped of a third triumph in 2010 after testing positive for banned substance clenbuterol.
Froome "doesn't look back anymore" and refuses to question how others have won races.
"If someone's better than me, they're better, I'm not even going to go down that road of thinking that they're on something or that they're cheating," he said.
"Alberto and I have both got mutual respect for each other as rivals, we don't glower at each other or try to put each other off the road or anything.
"And even from a sportsmanship point of view, if one of us punctures, or has a mechanical problem at the wrong moment you're not going to be racing off the road to benefit from that," he added.
"I respect that side of Alberto. He is an extremely tough rival for me. If anyone knows how to win the Tour de France, it's him."
Contador will race in the season's opening Grand Tour, the Giro d'Italia in May, before taking on the Tour.
Froome plans to compete in the Vuelta Andalucia, Tirreno-Adriatico, Tour de Romandie and Criterium Dauphine stage races as well as the one-day La Fleche Wallonne.