Lance Armstrong should get back his titles, says Scott Mercier

Last updated on .From the section Cycling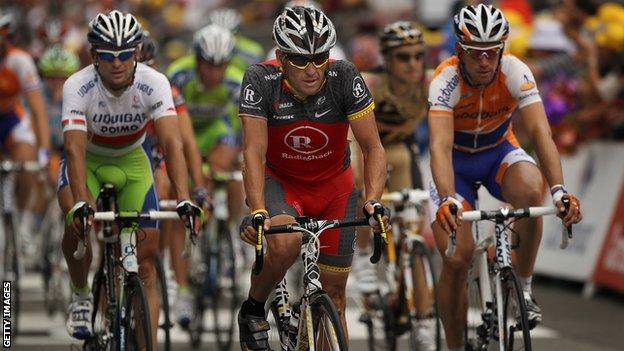 Lance Armstrong should get back his seven Tour de France titles and be forgiven, according to former US Postal Service Pro Team rider Scott Mercier.
American Mercier, 47, quit the sport in 1997 when he refused to join the team's doping programme.
Armstrong signed for the team a year later and won six of his seven Tours with them. He was stripped of all of them in 2012 and has admitted doping.
"It's time to consider letting Lance out of 'time-out'," Mercier said.
Armstrong, 43, who joined US Postal after recovering from cancer, was banned from sport for life by the United States Anti-Doping Agency (Usada) in August 2012 and later confessed to systematic doping and lying about it for years.
"He is a polarising figure and always will be, but I believe he can be a catalyst for good; not just for cycling, but especially for those who suffer from cancer," Mercier said.
The Lance Armstrong story
Born:
Plano, Texas on 18 September 1971
Tour de France victories:
1999, 2000, 2001, 2002, 2003, 2004, 2005 (22 individual stage wins)
World Championships road race victory:
1993
Cancer survivor:
Diagnosed with testicular cancer in 1996. The disease spreads through his body. Launches Lance Armstrong Foundation for Cancer. Declared cancer-free in 1997 after brain surgery and chemotherapy
Retirement:
Announces he will retire after the 2005 Tour de France, which he wins. Angered by drug allegations against him, Armstrong announces in September 2008 he will return to professional cycling. In June 2010, he reveals via Twitter the 2010 Tour de France will be his last. On 16 February 2011, Armstrong announces retirement again.
Having competed at the 1992 Olympics in Barcelona alongside Armstrong, Mercier enjoyed a solid career on the North American circuit before joining the new US Postal team in 1997.
That meant moving to Europe, where it soon became clear that in order to compete the team would have to do what many of their rivals were doing: dope.
Mercier said no, retired and moved to Hawaii to run a restaurant with his father. He then moved to Colorado, became a financial advisor and started a family.
His name did not resurface in cycling circles until Usada opened its investigation into Armstrong and US Postal.
Usada chief executive Travis Tygart met Mercier, and later praised him for being one of a small number of professional riders at the time strong enough to refuse to cheat.
But Mercier believes Armstrong, and American riders in general, have been disproportionately blamed for the sins of an entire generation of professional cyclists.
He points out that compatriot Floyd Landis lost his 2006 Tour title for doping, but Denmark's Bjarne Riis kept his 1996 win, despite his belated admission that he also cheated.
Another example Mercier highlights is that of Tyler Hamilton, who lost his 2004 Olympic time trial title when he was caught doping, only for US Postal team-mate Viatcheslav Ekimov to inherit it.
The Russian, a three-time Olympic champion, now runs Katusha, one of cycling's richest teams, and has always refused to comment on doping allegations.
Mercier said European and American riders had been treated differently over doping.
"This drug usage did not start with the Americans - it was part of the culture long before the Yankees invaded," he said.
"The Europeans have gotten a far easier ride than our riders.
"It's time to be honest, it may be painful, but I believe honesty and transparency are the best path forward.
"In my mind, Tyler is the gold medallist from 2004 and Lance Armstrong the winner of seven Tours of France."
Mercier also disputes the view that Armstrong deserves harsher treatment because he made his team-mates dope.
The wins still on Armstrong's record

Tour de France:

36th overall in 1995 & two stage wins (1993 & 1995)

La Fleche Wallonne:

1996

Clasica de San Sebastian:

1995

World road race champion:

1993

US national champion:

1993
"No-one forced me to leave, I left of my own free will," he said, adding that Armstrong's sponsors cannot claim to be "victims" either because "they got their money's worth" in publicity.
On the issue of Armstrong's legal problems with the US federal government, Mercier said: "Nearly every rider who donned a USPS kit was involved in some sort of doping, and yet only Lance defrauded the government? All those guys were paid real money."
Armstrong and Mercier are now friends and often ride together when the disgraced Texan visits his holiday home in Colorado.
Armstrong mentioned Mercier in his recent BBC interview as an example of somebody who chose "integrity" over the career in professional cycling.
"I was never much of a Team Lance fan," Mercier explained.
"I knew he was lying and his arrogance and boorish behaviour made me cringe.
"However, my issue with him was never about his performance. He was, quite simply, the best of his generation and is one of the fiercest competitors the world has ever seen.
"He says if there was anything he could change, it would be the way he treated people. I believe him. I've seen the way he treats people today and it's with humility and grace."