Lance Armstrong: Cyclist charged over Colorado car crash
Last updated on .From the section Cycling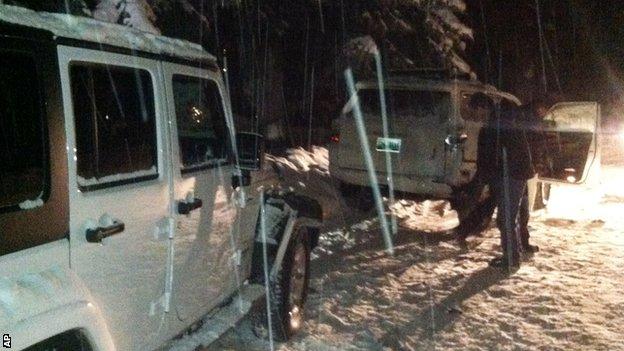 Lance Armstrong is due in court after being accused of leaving the scene of an accident and crashing into two parked cars.
According to police, the cyclist left the scene in the ski resort of Aspen, Colorado, before officers arrived.
Reports in the US media said his girlfriend Anna Hansen told police she was driving, before changing her story.
Armstong, 43, who was stripped of seven Tour de France titles for doping, faces court on 17 March.
He could face a fine and up to 90 days in jail if convicted of the charges of leaving the scene and driving too fast for the snowy conditions.
Hansen, 33, who lives in Aspen, was initially cited for the incident after telling police she had been driving the couple home from an Aspen Art Museum party.
She claimed to have lost control and hit two parked cars, before speaking to the owner and offering to pay for the damage, the police report said.
The Aspen Daily News reported that the couple had made the "joint decision" to avoid negative headlines.
Officers then spoke to the valet at the event, who said Armstrong had driven away from the gala.
On 12 January, the charges were transferred to Armstrong. Hansen will not face charges.
Armstrong was stripped of his seven Tour de France victories and banned for life from racing in 2012 by the US Anti-Doping Agency after he admitted using performance-enhancing drugs.