Lance Armstrong given $10m bill after losing lawsuit
Last updated on .From the section Cycling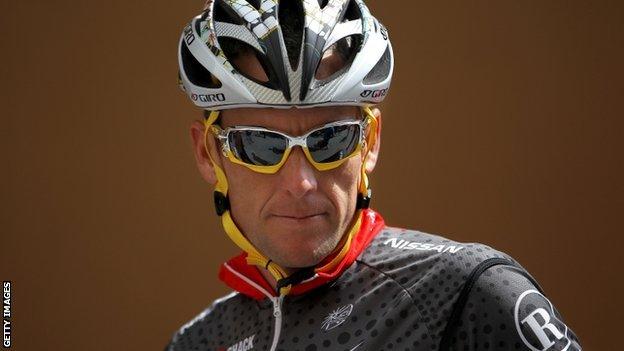 Lance Armstrong must pay $10m (£6.51m) in damages after losing a lawsuit with insurance firm SCA Promotions Inc.
In 2006 Armstrong, 43, received $7.5m (£4.88m) in payments from SCA relating to his seven Tour de France victories.
Armstrong admitted to doping and was found to have lied in proceedings.
SCA said: "The award, which must be paid directly to SCA, is believed to be the largest award of sanctions assessed against an individual in American judicial history."
SCA initially refused to pay out money covering the bonus for Armstrong's sixth Tour de France win in 2004.
Armstrong took the company to an arbitration hearing in Dallas in 2005 and won, because the contract between the parties stipulated the insurance money would be payable if Armstrong was the "official winner" of the Tour.
He was awarded $2.5m (£1.6m) in damages and costs.
"SCA's dispute with Armstrong is not over," said the firm.
"It has a currently pending lawsuit in Dallas state district court where it is pursuing additional claims against Lance Armstrong and Bill Stapleton (Armstrong's agent)."
In 2012, the United States Anti-Doping Agency issued Armstrong with a life ban and stripped all seven of his Tour de France titles.
The Texan was accused of being part of the "most sophisticated, professionalised and successful doping programme" that sport had ever known.
During a 2013 television interview with American talk-show host Oprah Winfrey, Armstrong confessed that he used banned performance-enhancing drugs throughout much of his cycling career.
Last month, the Texan told the BBC, when asked if he would make the same choice to cheat that he made in 1995: "When I made the decision, when my team made that decision, when the whole peloton made that decision, it was a bad decision and an imperfect time.
"But it happened. And I know what happened because of that. I know what happened to the sport, I saw its growth."
SCA Promotions president and founder Bob Hamman said: "It is hard to describe how much harm Lance Armstrong's web of lies caused SCA but this is a good first start towards repairing that damage."
Jeff Tillotson, SCA's promotions lawyer added: "This record-breaking award was justified given Armstrong's outrageous conduct."