GB track cyclists rebuilding for Rio 2016, says director Shane Sutton
Last updated on .From the section Cycling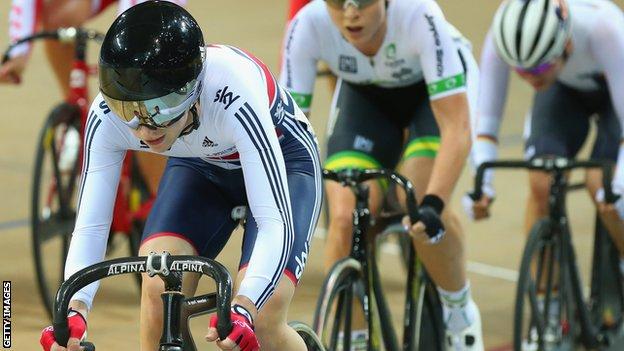 Britain's cyclists can still "do the business" at Rio 2016 despite leaving the Track World Championships without a single gold medal for the first time in 14 years, Shane Sutton says.
British Cycling's technical director admitted the challenge "would not be easy".
But he told BBC Sport: "I know that we're competitive in probably seven medal events in track."
Great Britain won three silver medals in Paris.
Sutton said expectation would always be high for his athletes following more than a decade of track domination, helped by the likes of the now-retired champions Sir Chris Hoy and Victoria Pendleton - part of the squad who won seven gold medals on the track at the London 2012 Games.
"We raised the bar in this sport, and it's difficult to keep surpassing that," he said.
The 57-year-old added: "It's a challenge that lies ahead. I'm confident that we can do the business, but it's not going to be easy.
"We're doing all in our power [and] we know we can lead these guys into a successful Rio. We know where we are and we know what's needed."
Australia-born Sutton took over as British Cycling's technical director in April 2014 following Sir Dave Brailsford's departure to road-racing outfit Team Sky.
That came after Great Britain won two gold, one silver and two bronze medals at the 2014 Track World Championships in Colombia.
But Sutton says despite the lack of gold medals in Paris, there were many positive signs that the squad is on the right track. "I think it's just a matter of us going back, looking at our detail, galvanising as a unit and driving this big juggernaut back into London and hopefully get a really good Worlds and bounce off that into the Games."
BBC Sport summariser Rob Hayles on the Men's team pursuit:
"If you go back five weeks, we didn't have a team. Fifty percent of the team were on the floor at the training camp in Mallorca after having a crash. So, to have come five weeks from there, to go 3mins 54secs and just miss out on the gold medal is quite incredible.
"So, result-wise - silver medal - they should be proud of that, I hope they will be. But performance-wise, they are well and truly there."
Without Becky James, who won two world titles in 2013 but is recovering from a knee injury, Britain look relatively weak in the women's sprint disciplines which Victoria Pendleton once dominated.
"If Becky comes back, then yes, the gap [to the rest of the world] is doable," Sutton added. "At this moment in time, without Becky, the gap's not closable."
Yet Sutton has urged patience while a new generation of sprinters are nurtured.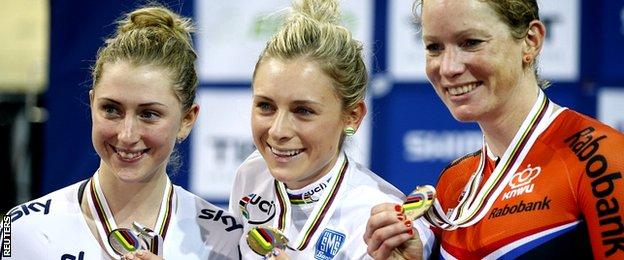 "That's where we're very short, I make no bones about that, we are very short and there needs a massive paradigm shift there and I don't know how we're going to do it," he said.
"Give us a chance to develop them, we need time with these kids and I just want everybody to get behind them and support them.
"I'll take the criticisms, but it was a golden era, wasn't it?"
BBC Sport summariser Victoria Pendleton on Jess Varnish's potential:
"Sprinting isn't just about being fast, you have to have the tactical awareness. Jess Varnish is 10 years younger than me. I lost a lot of races before I got one right. I don't think you can expect too much from those girls.
"Maybe you could be really lucky and get it right, but on the whole it takes a lot of track experience and a lot of races lost in order to get to a point where Kristina Vogel is. She can just deliver when it counts."
Home advantage, Sutton believes, was one of the main reasons behind France's 2015 success which included five gold medals and a bronze.
Frenchman Gregory Bauge wrapped up the action on Sunday, securing the host's fifth gold of the tournament.
"You look at the French here, they've just turned it right on, that goes down to that home advantage as well.
"The Dutch, every other nation's got something out of this, so from my perspective everyone's moving on, I still believe we're competitive."
BBC Sport's Chris Boardman on GB's struggles
"It's actually very good for the sport. Yes, we want to win everything, but if you get one nation that dominates it can destroy the sport because other nations won't invest in it. But they have invested and it's paying off.
"I think it's good for all of us, it makes it very exciting to watch and we're not quite sure what the result will be. I don't think we're going to see eight gold medals again but I expect GB, certainly in the endurance side, to be competitive once we get to Rio."
In addition to losing Hoy and Pendleton, track stars Sir Bradley Wiggins and Mark Cavendish have focused on road racing in recent years - although Wiggins is now back in the track fold, aiming to be in Rio next summer.
And 2012 Tour de France winner Wiggins' return - he won four Olympic gold medals between 2004 and 2012 - would give the entire team a boost, Sutton revealed.
"The sport is about iconic figures and there's no one bigger than Brad. It would be great."