Dani King: Olympic champion says it was scary to go back on the road
Last updated on .From the section Cycling
Olympic champion Dani King says it was "scary" to ride on roads again after suffering five broken ribs and a collapsed lung in a training crash.
"I was cycling on the cobbles in the rain so it doesn't get much worse than that," said King, who won gold in the team pursuit at London 2012.
"I am in good shape, I just need to get my confidence back."
She added: "It was scary but I am getting there.
"Everyone in the team was so nice and encouraged me to get back on the road.
Dani King's path to Olympic glory
Her father, Trevor, is a former biathlete who competed in two Winter Olympics
Spotted by a British cycling talent team at school in Southampton in 2005, aged 15
Struck down by glandular fever in 2009, leading to worries about her career
Won women's team pursuit gold at the 2011 World Championships and successfully defended the title in 2012 and 2013
Took gold at the London Olympics in the team pursuit alongside Laura Trott and Joanna Rowsell
King was on a regular training route in south Wales in November with a group of fellow cyclists when what she describes as "a freak accident" occurred.
"Someone riding to my left hit a pothole covered in water and came into the group. I had nowhere to go and went over," said King.
"I thought I'd got off lightly. Then I felt excruciating pain as someone rode straight into my back and that's when all the damage was done."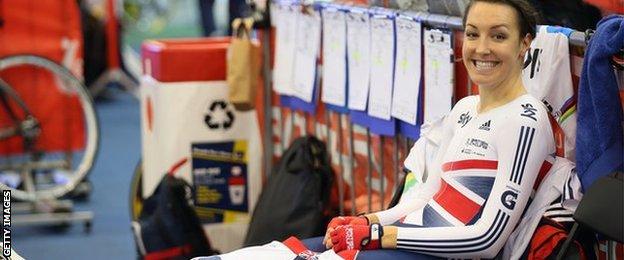 She was in hospital for 10 days - at one point fearing the crash might end her career - and admitted her preparations for next year's Rio Olympics have been affected.
"It has made quite a big dent because I had a plan of doing a full winter's training," King said.
"It has put things back a bit but it could have been a lot worse."
King intends to start competitive road racing again in April and her next track competition is at the British Cycling National Track Championships, likely to take place in September.
However, she knows she will have to impress to get back in the team ahead of the 2016 Olympics.
"All the girls are incredible athletes and it is going to be really hard for me to get back in," she added.
"We have to fight every day to make the team but I hope to be firing on all cylinders and to get myself back in for Rio."