Astana v UCI licence fight could run 'until the summer'
Last updated on .From the section Cycling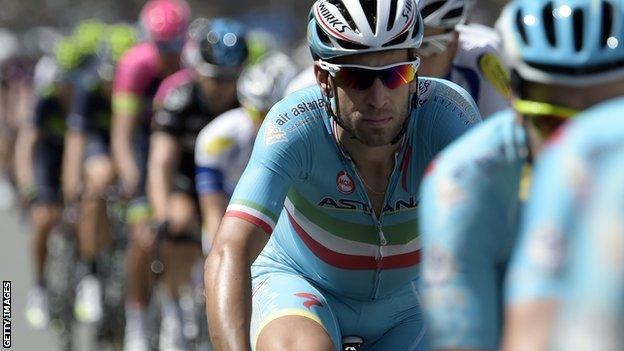 Astana's fight to keep their licence could run until the end of the Giro d'Italia at least, and perhaps up to the start of the Tour de France.
Tour de France champion Vincenzo Nibali's team have until 20 March to submit paperwork to the commission.
But after that timings get vaguer, with sources telling the BBC that Nibali and co could be in legal limbo for months.
The request to revoke the licence followed an independent audit ordered by the UCI after anti-doping infringements by Astana and their feeder team.
The Kazakh-funded outfit face months of uncertainty with one of the chief complications being that the licence commission comprises two Swiss businessmen, a Swiss politician and a retired Swiss judge, who work for the UCI on a part-time basis.
Added to that, there is Astana's desire to continue to race: next week, for example, they will have teams at Paris-Nice, Tirreno-Adriatico and the Tour de Langkawi in Malaysia.
Longer term, they are building towards rising Italian star Fabio Aru's attempt to improve on last year's third-place finish at the Giro in May, and Nibali's Tour defence in July.
Understandably, Astana are in no mood to facilitate their demotion to the sport's second tier, so a degree of foot-dragging can be expected; and if the commission rules against them, an appeal to the Court of Arbitration for Sport is guaranteed.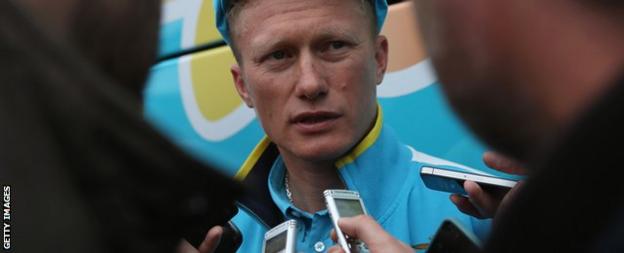 Aru, Nibali and the other top riders are believed to have escape clauses in their contracts should Astana lose WorldTour status, but they cannot be triggered until the process is complete. They will then be relying on teams having room on their rosters for new leaders, and enough money to pay them.
Astana have been in the UCI's crosshairs for some time but matters came to a head last year when five Kazakh riders in their WorldTour and development squads failed drugs tests.
The UCI reluctantly gave them a licence in December, but with caveats, including the team's agreement to an audit of their anti-doping practices.
It is the result of that audit, conducted by the University of Lausanne, and new evidence from an Italian anti-doping investigation into the team's alleged links with banned doctor Michele Ferrari, that gave the UCI enough ammunition to take last week's surprise move.
Astana deny any team-sponsored or systematic cheating and say Nibali was tested four times in 24 hours during last year's Tour, and more than 50 times during the season.
"Bad things happen, and idiots exist all around the world, even in cycling, and the system caught them - that means the system works," Astana's head doctor Joost De Maeseneer said.
"The team has everything in place for riders who want to succeed without doping. We are at the front in the fight against performance-enhancing drugs in cycling."
Meanwhile, the Astana case is not the only doping-related issue on the UCI's radar, with the Cycling Independent Reform Commission's much-anticipated report into the sport's troubled recent past scheduled for publication on Monday.