Brian Cookson: Doping young cyclists is 'child abuse'
Last updated on .From the section Cycling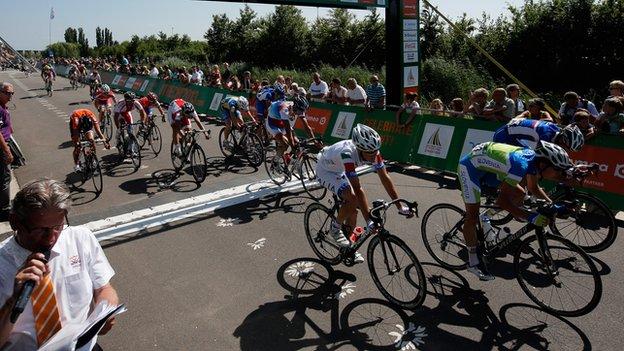 Grooming young cyclists to take drugs is "nothing short of child abuse", says International Cycling Union (UCI) president Brian Cookson.
A 227-page report into doping, published on Monday, claimed youth cycling was particularly vulnerable.
"I want to look into that with a bit more seriousness," said former British Cycling Federation boss Cookson.
"I think it may well be [happening] in certain parts of the world, it's not widespread but let's look at it."
The report stated that "anti-doping testing is concentrated at the elite level so doping may go undetected at lower levels".
It added that "if youth riders want to reach higher ranks, the incentives are there to dope at an early age".
Cookson told the BBC: "One of the things that caused me real concern was the suggestion that there may be evidence that doping is creeping into the youth ranks as well.
"Frankly, if people are supplying youth riders with doping products and procedures, that's nothing short of child abuse.
"People should be subject to criminal proceedings."
The Cycling Independent Reform Commission, set up in January 2014 to investigate cycling's problems with doping during the 1990s and 2000s, was heavily critical of the sport's leadership.
The report cleared former UCI bosses of outright corruption but censured them for a litany of failings.
One of the criticisms was that the UCI did not really want to catch cheats and therefore turned a blind eye to anything but the worst excesses.