Jersey 2015: Island Games St Helier criterium route unveiled
Last updated on .From the section Cycling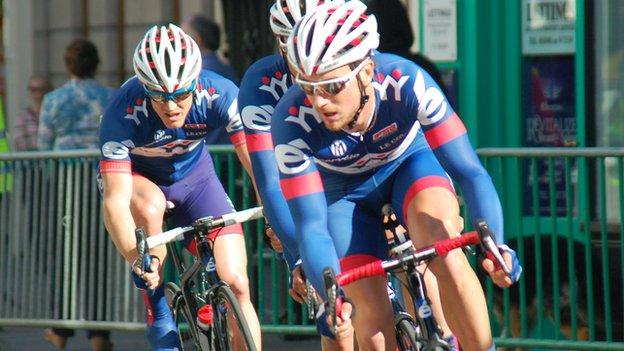 The route for the criterium race in the 2015 Island Games has been unveiled.
Cyclists from 15 islands will race around the streets of St Helier on Thursday, 2 July in the final cycling event of the games.
A 25-strong field of women riders race at 13:00 BST and the men's race of 57 riders start at 18:30 BST.
The 1.2-mile (1.93 km) course starts and finishes near Jersey's cenotaph in York Street and follows a similar route to the
The race will pass through Union Street and Burrard Street before a sharp left turn into Halkett Place.
Riders will then go into Mulcaster Street, turn past the Weighbridge and Liberation Square, head into Conway Street and Broad Street before returning to the start and finish area past the Town Hall.
"The event itself will the the climax of week's cycling events and it will draw in big crowds to watch it," the director of the 2015 Island Games, Steve Bailey, told BBC Radio Jersey.
Concerns have been raised that a major part of the centre of St Helier will be closed for much of a working day, something which Bailey has defended.
"We're working really hard to minimise any inconvenience," he said.
"This is Jersey's Olympics. We're no different from other places around the world. Big events like this will bring a little bit of inconvenience and disruption, I just hope we can get everybody behind us and make the most of what is a very big international event."