Lance Armstrong's Tour charity ride criticised by Brian Cookson
Last updated on .From the section Cycling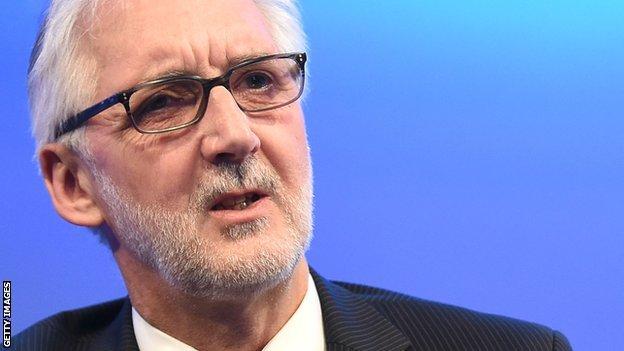 Lance Armstrong has been warned not to take part in a Tour de France charity ride in July by International Cycling Union president Brian Cookson.
Armstrong, who received a lifetime ban for doping, is planning to ride some of the Tour route one day ahead of the race with ex-footballer Geoff Thomas.
But Cookson said this was "completely disrespectful" to the current riders, cycling authorities and the race.
"Lance would be well advised not to take part in that," he added.
"I'm sure Geoff Thomas means well, but frankly I think that's completely inappropriate."
Armstrong was stripped of his record seven Tour titles and banned from most organised sport for life by the US Anti-Doping Agency (Usada) in 2012. He later admitted on US television that he had used performance-enhancing drugs during all of his Tour victories.
The 43-year-old American, who recovered from life-threatening cancer in 1996, told the BBC in January that his ban made it very hard to do the charity work he did throughout most of his post-cancer career.
Thomas was diagnosed with leukaemia in 2003, a year after he retired from a 20-year football career that saw him captain Crystal Palace in the FA Cup final and win nine England caps.
Inspired by Armstrong's story, Thomas rode the 2005 and 2007 Tour de France routes ahead of the professionals, raising £250,000 to fund research nurses at the Birmingham hospital that treated his cancer.
The Lance Armstrong story
Born: Plano, Texas on 18 September 1971
Tour de France victories: 1999, 2000, 2001, 2002, 2003, 2004, 2005 (22 individual stage wins) - all have been stripped from his record
World Championships road race victory: 1993
Cancer survivor: Diagnosed with testicular cancer in 1996. The disease spreads through his body. Launches Lance Armstrong Foundation for Cancer. Declared cancer-free in 1997 after brain surgery and chemotherapy
Retirement: Announces he will retire after the 2005 Tour de France, which he wins. Angered by drug allegations against him, Armstrong announces in September 2008 he will return to professional cycling. In June 2010, he reveals via Twitter that the 2010 Tour de France will be his last. On 16 February 2011, Armstrong announces retirement again.
Now 50, he is trying it again and he recently went to Armstrong's home in Texas to persuade him to join the team in a bid to raise more than £1m for the Cure Leukaemia charity.
But news of Armstrong's involvement, which is likely to consist of him riding a couple of stages and hosting a training camp for the charity ride team, has shocked many within the sport.
Team Sky principal Sir Dave Brailsford told The Times Armstrong had "done enough damage" to cycling and the Tour already.
"For the sake of all clean riders in the peloton, who've already suffered enough from that era, leave them alone - enough's enough," Brailsford added.
But Thomas, who has remained in touch with Armstrong ever since the rider presented him with the Helen Rollason Award at the 2005 BBC Sports Personality of the Year Awards, is adamant the fallen hero is doing this for the right reasons.
"I understand that some people will find it hard to accept Armstrong's support but my take is simple: if Armstrong's involvement in 'Le Tour - One Day Ahead' and my goal to raise £1m for blood cancer can help save one more life then surely that can only be a good thing," he said in a statement on Twitter.
Cookson, however, is far from convinced, telling a Sport Industry Breakfast Club gathering in London on Tuesday that Armstrong had "rolled out" the charity angle throughout his career.
"I'm not critical of people trying to raise funds for charity, let's be clear," he said.
"But I think maybe Lance could find a better way of continuing his fundraising efforts than this.
"Lance Armstrong can ride his bike around France as often as he likes. It's got nothing to do with me or the UCI."
All of which is true, as the Tour de France race director Christian Prudhomme acknowledged when he heard about Armstrong's intention to be a high-profile outrider at this summer's race.
"He's free to do so; the roads are open to the public," said Prudhomme. "But it will be a media event, that's for sure."