Great Britain BMX use drone aircraft sensor technology

By David McDaid
BBC Olympic sports reporter
Last updated on .From the section Cycling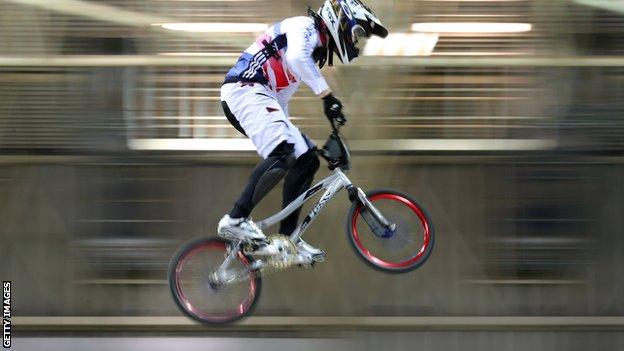 Great Britain's BMX squad are employing technology used in drone aircraft in order to boost their chances of medal success at the Rio Olympic Games.
"It measures speed across a jump which has been impossible until now," said former world champion Liam Phillips.
"This whole programme is built around the Olympics and we want to have an Olympic champion."
The technology, first developed for unmanned aircraft, uses a camera and sensor system to monitor speed and trajectory of a rider from the moment they exit the start gate and travel across jumps through a course.
That data is then fed instantly to a tablet device to be interpreted, with the aim of helping the rider modify their approach and boosting their chance of being in the lead come the first bend.
"It's still a little bit mind-blowing," said Phillips, who won the World Championship in 2013.
"Every year we're looking for hundredths of a second to the bottom of the start ramp.
"We deem those small differences to be a massive success.
"It's about perfecting the technical component of BMX and this gives us real, hard data that allows us to try different techniques.
"If we're to keep progressing and be the best BMX nation in the world this is a massive tool to help us do that."
Before turning his attention to Olympic success Phillips' first goal is to reclaim the world title in Belgium in July.
"Now it's all I think about. It's huge," he said.
"All of my focus is to go there again and perform as best I can.
"If I do that I'll be in contention to win that world champion's rainbow jersey again."