Jonathan Tiernan-Locke: Banned rider eyes 2016 cycling return
Last updated on .From the section Cycling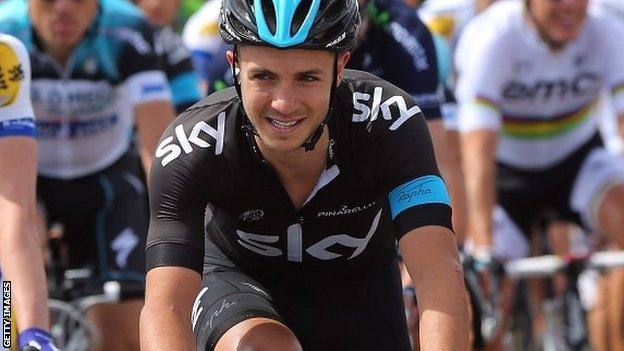 Ex-Team Sky rider Jonathan Tiernan-Locke wants to return to cycling in 2016 after a two-year doping ban.
The now 30-year-old joined Team Sky in 2013 after a superb 2012 season in which he won a string of races including the Tour of Britain.
But he was sacked last summer when a UK Anti-Doping panel found him guilty of using the banned blood-booster EPO.
"I want to race next year and I'm starting to formulate a training plan for this summer," Tiernan-Locke said.
"I've been riding with friends locally - it's not really training yet but it's felt good and I'm ready to step it up."
The Devon-based rider says his general fitness is good but he has put on some muscle and now weighs 80kg, or 12st 8lb, which is more than 2st above his racing weight.
His plan is to start racing again on the British circuit but says he sees no reason why he cannot return to the international scene as his form comes back.
This is a far cry from his angry reaction in 2013 and 2014, as his career and reputation came crashing down around him when he became the first British athlete to be sanctioned on the basis of abnormal blood values in his biological passport.
This is the electronic record of every blood and urine test an individual athlete takes, although in Tiernan-Locke's case it was the very first test he took for his passport that caused his downfall.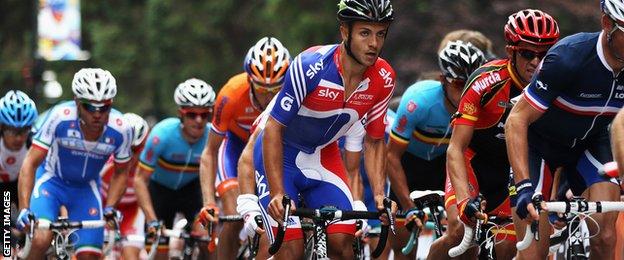 The test, taken a week after wining the Tour of Britain for the British-based Endura Racing team, did not match the samples he gave while riding for Team Sky in 2013.
He continues to say the discrepancy in his blood values was not related to doping but was because he was dehydrated after getting drunk with his girlfriend to celebrate his move to Team Sky.
The case dragged on for almost a year, during which time he was suspended by Team Sky, and the eventual outcome left him bitter and confused.
He has spent the last six months working on a new building and property-development business but has found himself watching more and more cycling on TV, and enjoying riding with friends again.
"Don't get me wrong, I'm still angry by what happened," he told the BBC.
"But you can't carry that around forever. Time really is a great healer, and I'm the type of person who is quick to forgive and forget."
However, he admitted he would "jump at the chance" to clear his name and has recently been talking to his lawyer about a possible appeal through the British courts.
This avenue has recently opened up to athletes in Tiernan-Locke's position after German speed skater Claudia Pechstein was given permission to challenge a Court of Arbitration for Sport ruling - previously considered to be final and binding - through the German courts.
In the meantime, however, Tiernan-Locke is looking forward to "putting himself back in the shop window" and riding in non-affiliated sportives in the UK this summer.