Sir Bradley Wiggins: I owe my career to my mum
Last updated on .From the section Cycling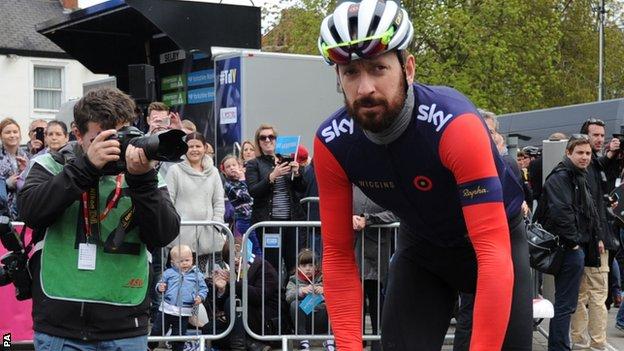 Olympic champion Sir Bradley Wiggins says he owes his success to his mother, who ran up debts of £50,000 to help launch his hugely successful cycling career.
And the first Briton to win the Tour de France tells BBC Radio 4's Desert Island Discs that the absence of his late father, Gary, for much of his childhood was a key factor in him becoming a professional cyclist.
Wiggins also tells how his nappies were used for smuggling amphetamines - by his drug-dealing father.
As well as the effect his father's drug dealing and use had on his own upbringing, the 35-year-old also discusses his post-Athens slump in 2004, when the reality of winning Olympic gold failed to match the dream, reveals musician Paul Weller's role in his knighthood - and picks his favourite music.
Wiggins is preparing for his attempt to break Alex Dowsett's hour track record of 52.937 kilometres (32.893 miles) on 7 June.
'If he had stayed, I wouldn't have been a cyclist'
Gary Wiggins was an Australian professional cyclist who moved to Europe in the 1970s, but he returned to his home country after splitting from Wiggins' mother, Linda, when Wiggins was two.
Father and son had little contact until Wiggins was 18, when the pair began a telephone relationship before meeting in Australia. Wiggins senior died in 2008, aged 55.
Sir Bradley Wiggins

Wiggins became the first Briton to win the Tour de France when he triumphed in 2012. Later that summer, he won his first Olympic title on the road with victory in the time trial at London 2012.

The 35-year-old has won four Olympic gold medals, plus one silver and two bronzes. If he wins an eighth in Rio, he will become the most decorated British athlete in Olympic history.
Victory in the world time trial last year meant Wiggins has now won world and Olympic titles on both the track and road.

Wiggins has won 13 World Championship medals, seven of them gold. He also has four Commonwealth silvers.
Linda raised Wiggins in Kilburn, north London, but the former Team Sky rider says had his father been present, his own life would have gone down a very different path.
"If he had stayed around through my teenage years I wouldn't have been a cyclist because he would have been so hard and so critical of me," Wiggins tells Young.
"I would have packed it in and gone and done something else."
Dad's drug issues
Wiggins says his father "did not fully see the responsibilities of having a child", and discusses Gary's involvement with drugs, which he confirms included smuggling amphetamines in his son's nappies.
"He did a bit of everything. In those days it was amphetamines and speed. His nickname was Doc. He was a user and used to sell.
"My mum's got some great stories about the people who, when I was a baby, came through our apartment door to buy stuff off my dad. These people are now beating the drum saying 'I didn't do anything', which is funny."
Mum's sacrifices and support
In his father's absence, the emotional and financial support of his mum proved crucial to Wiggins.
"She was quite a strong woman and I think she just lived for me from that moment on really. She wanted me to pursue my dreams.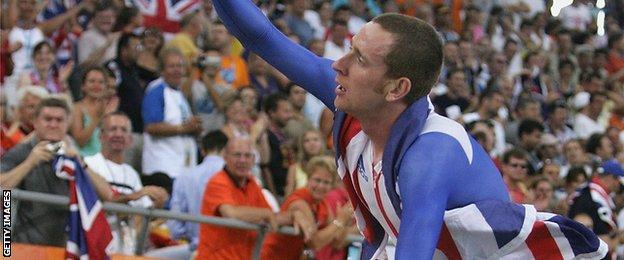 "My mum put herself into £50,000 worth of debt to service my sporting career. I look after her now but she is not the sort of woman who wants a lot in return.
"She's just content and proud that I've held a marriage for 12 years and that I've got two kids - that I've got the fundamental things."
'I was Olympic champion but couldn't pay the mortgage'
Wiggins claimed individual pursuit gold, team silver and madison bronze at the 2004 Olympics in Athens, but says he was surprised to find the realities of life did not match his achievement.
"I thought there'd be people banging down the door with cheques for millions of pounds. I was Olympic champion but couldn't pay the mortgage.
"I had this incredible guilt that I was Olympic champion but couldn't pay the bills. I got a bit depressed about the whole thing. It did not live up to the impression of what I thought Olympic gold was all going to be about.
"That was August. As soon as my son was born in March, I felt like I had to provide for this person and it brought back the memories of what happened with my own father."
'Paul Weller convinced me to accept my knighthood'
Wiggins says he had initial doubts over accepting his knighthood in 2012. "I never saw myself as a sir. I said to my nan I wasn't going to accept it. She said 'you're stupid'."
His grandmother's words and the chance to inspire children from a similar background swayed his thinking. "I also love the history of it and what it used to stand for, knights that would go out to battle and be rewarded - that's almost quite true to sport," he adds.
But it was musician Paul Weller who finally convinced Wiggins to accept the honour: "He gave me the nod on it. We were talking about it at my tailor's one day. I kind of had his blessing."
'Whenever I hear it, I have to turn it up'
Despite the knighthood, Wiggins was happy to choose 'The Queen is Dead' by 1980s Manchester band The Smiths as one of his musical selections for the programme, saying: "This is the first piece of music I remember thinking 'I like that' and it's stayed with me ever since. Whenever I hear it I have to turn it up."
His other selections were The Stone Roses' 'I am the Resurrection', Chas and Dave's 'That's What I Like' ("It reminds me of my childhood"), Ian Dury and the Blockheads' 'Reasons to be Cheerful Part Three', Oasis with 'Rock n Roll Star', The Rolling Stones with 'Sympathy for the Devil', T-Rex and 'Cosmic Dancer' and David Bowie's 'Sound and Vision' ("I'd like that being played when I leave the world") with athlete Michael Johnson's autobiography as his choice of book and a photo album of his family as his luxury.
You can listen to Wiggins' conversation with Kirsty Young again via the BBC iPlayer.