Sir Dave Brailsford says cycling needs F1-style TV revamp
Last updated on .From the section Cycling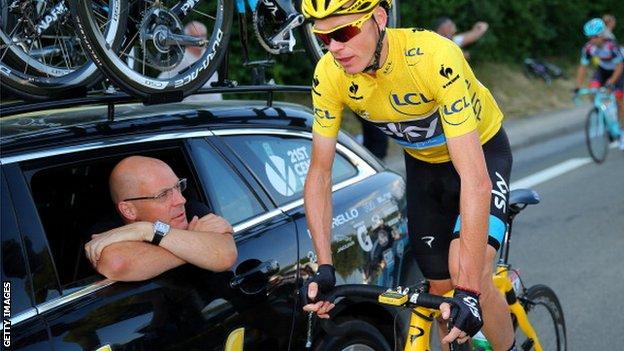 Team Sky boss Sir Dave Brailsford says cycling should copy Formula 1 and allow TV viewers to hear radio communications between teams and their riders.
The former British Cycling performance director believes it will help explain the sport's tactics.
Brailsford does not want to see a drastic overhaul of the sport but is also in favour of shorter stages.
"It would be super interesting to hear what the sporting directors are saying to the riders," he said.
"It's a complex sport. You've got all the sporting directors in the cars trying to play out hundreds of scenarios, like 'who is going to chase?'
"They all wait and watch the gap get to nine minutes, 10 minutes, and then suddenly you think, 'hold on, I might be throwing the Giro away here.'
"I think if everybody knew what each team was trying to do it would be fascinating and add a whole new level of intrigue and understanding."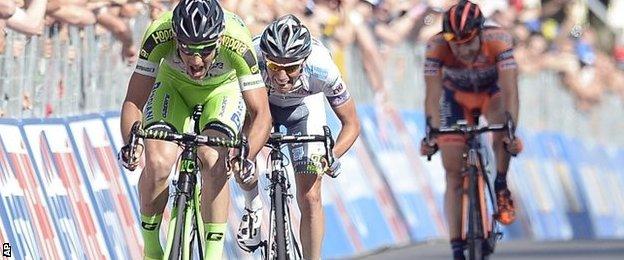 The International Cycling Union (UCI) has revealed plans to radically restructure the cycling calendar to reduce the number of days that riders race and make sure that major events no longer overlap.
This plan would cut the number of elite teams to 16, reduce the number of riders they need and reshape the sport below the top tier, but Brailsford says he "doesn't agree with the race programme changes (the UCI) is trying to bring in".
Brailsford, who has overseen Team Sky since 2010, would like to see shorter stages.
Speaking after the Giro d'Italia's fourth stage, a thrilling battle waged along 150km of Liguria's tight and twisty roads, he said: "You don't need long, 240-250km stages in Grand Tours.
"I think they're there for a gesture. But if you want the lads to race, make it short and punchy.
"That way they have to react to breaks and it creates scenarios - nobody can just sit back and wait for the finish."
Team Sky is one of 11 leading teams that have combined to form Velon, a joint venture intended to bring more money into the sport by packaging it better for television.
As well as sharing radio communications with broadcasters, Brailsford would like to see more cameras on bikes and in team cars.
Prior to the start of the Giro d'Italia on 9 May, Velon announced its first on-bike camera deal with the race's owner RCS, an agreement that means pictures from the heart of the peloton are available for eight of the 21 stages.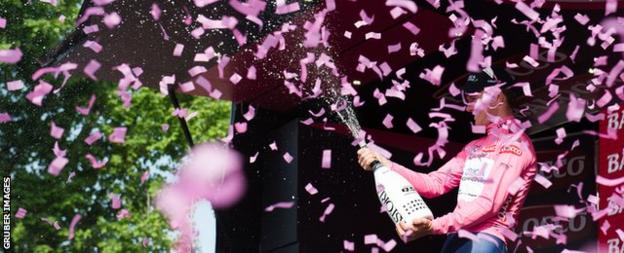 This move has been welcomed by broadcasters, although they have pointed out that the pictures cannot be used until after the race.
The Giro is being televised in the UK by Eurosport and its head of cycling Stefano Bernabino said he would love to be able to use radio communications in his broadcasts but doubted the teams' willingness to share them.
In his view, the most important development for cycling coverage would be GPS trackers on each bike to enable quicker identification of each rider and more on-screen data for viewers. This is understood to also be a priority for the UCI.
BBC World Service's Sportshour programme on Saturday, 23 May, has an exclusive report from the first week of the Giro in Liguria, featuring interviews with Team Sky's Richie Porte, Eurosport pundit Juan-Antonio Flecha and others.