Graeme Obree praises Wiggins after breaking UCI Hour Record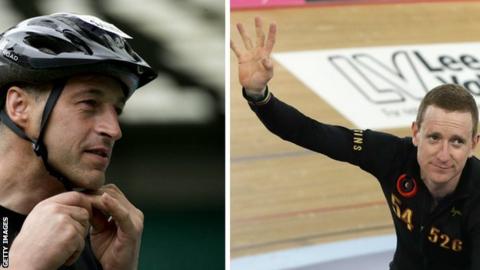 Scottish cyclist Graeme Obree believes the new hour record may take some beating after Sir Bradley Wiggins added an extra mile to the iconic challenge.
Obree, who held the record in 1993 and 1995, told BBC Scotland that Wiggins had achieved something special.
"It's a bit like Ice Dancing: you don't know how good it is until you see the other dancers," Obree said.
The Scot previously described the challenge as akin to drilling holes in your own teeth.
Wiggins broke the iconic hour record by completing a distance of 54.526km (33.88 miles).
The 35-year-old smashed the previous mark, held by fellow Briton Alex Dowsett, of 52.937km (32.89 miles) that had been set in May.
Wiggins, a multiple Olympic and world champion on track and road, surpassed Dowsett's record of 212 laps, set in Manchester, with 1min 42secs to spare and eventually completed 218 laps.
"I'm just glad it's done," Wiggins said. "It was torturous. That's the closest I have ever come to what it's like to have a baby."
Obree understands why Wiggins described the record achievement as '"torturous".
"When you get to 35-40 minutes time does seem to slow down on you," said the Scot. "All the public sees is a smooth effort, no rocking about. There's no other output visible for the public."
Wiggins, who becomes the fifth person in the past nine months to break the record, joked: "That's the closest I have ever come to what it's like to have a baby."