Island Games 2015: Guernsey's Jo Watts to ride despite accident
Last updated on .From the section Cycling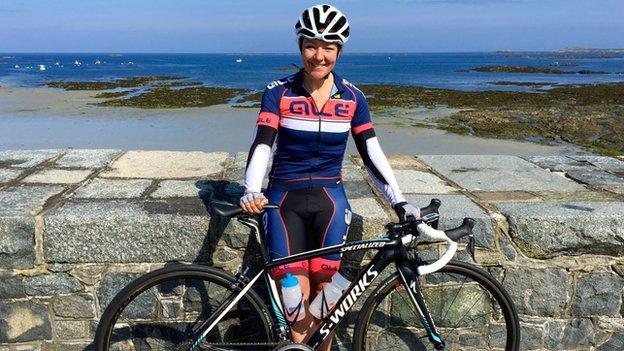 Guernsey cyclist Jo Watts will race at this summer's Island Games just two-and-a-half months after breaking 11 bones in an accident.
The 43-year-old was hurt after a collision with a car while training for the biennial sporting event.
"I was in hospital for a week and had to have an operation, so it put me out for a couple of months," she told BBC Radio Guernsey.
"I'm not quite where I'd like to be, but I'm pleased I'm back on the bike."
Watts, who raced for Guernsey at last summer's Commonwealth Games, says she never had any doubt that she would be able to ride in this summer's Games in Jersey, which start later this month.
"It never occurred to me that I wouldn't get there, but a lot of other people thought I wouldn't get there, including one of my doctors," she said.
"I can't remember any of the accident, which is probably a good thing, because it means I haven't lost my nerve, which is really positive.
"On corners I feel confident, descending I feel confident, it's just when I see cars coming out of entrances or slip roads that I feel a little bit nervous."
Watts is returning to the island Games 28 years after the last time she represented Guernsey - back in 1987 she was a 15-year-old runner competing in her first major event.
"It would be nice to go for a different sport and go for the whole event, I think it's going to be a great occasion.
"I must be the longest-spanning athlete that will be there, so it shows my age."