Hein Verbruggen threatens to sue UCI in doping row
Last updated on .From the section Cycling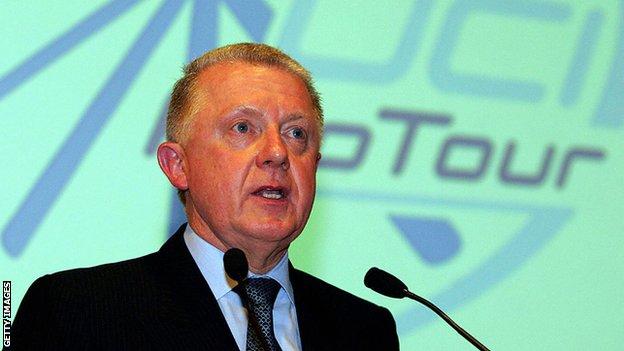 Hein Verbruggen, the honorary president of the International Cycling Union (UCI), wants to sue the organisation he ran for almost 15 years for defamation.
The Dutchman, 73, was president of cycling's governing body from 1991 to 2005, a period that saw doping become endemic in professional road cycling.
A UCI-backed report of the era heavily criticised Verbruggen's leadership.
"If Mr Verbruggen wishes to sue the UCI, that of course is a matter for him," said UCI president Brian Cookson.
Verbruggen said the report, published in March, was "incomplete and biased" and "an anti-Verbruggen pamphlet".
The Cycling Independent Reform Commission (Circ) was set up by Cookson in January 2014 to investigate how doping became so widespread in the sport in the 1990s and 2000s.
It also looked into claims the UCI leadership of the time colluded with Lance Armstrong - who was stripped of his record seven Tour de France titles - and others to cover up systematic cheating.
The three-man Circ panel - former Swiss prosecutor Dr Dick Marty, German anti-doping expert Professor Ulrich Haas and Australian investigator Peter Nicholson - spent more than a year interviewing a total of 174 witnesses and published its 227-page report on 9 March.
Verbruggen and Pat McQuaid - his successor as UCI president and the man Cookson replaced - were cleared of concealing failed tests and corruption, but both men were censured for shying away from the tough action that was required, getting too close to Armstrong and breaches of UCI electoral and financial rules.
The claims infuriated Verbruggen at the time, and he is no happier three months on.
Later on Wednesday he will publish a detailed rebuttal of the Circ report on a new website. The BBC has seen a summary of the critique, which runs to 14 pages.
Verbruggen has also told the BBC that "legal action is likely to follow" and he is taking advice on whether he can sue Cookson personally.
Cookson, a former president of British Cycling who took over at the UCI in 2013, does not appear to be too concerned.
The 63-year-old, who has repeatedly asked Verbruggen to resign as honorary president, said: "I am absolutely comfortable with the fact that the Circ report was a wholly independent investigation led by an extremely reputable and experienced team of experts.
"Their report and recommendations have been very helpful in rebuilding trust in cycling and the UCI."