Lizzie Armitstead's crash left team concerned for her career
Last updated on .From the section Cycling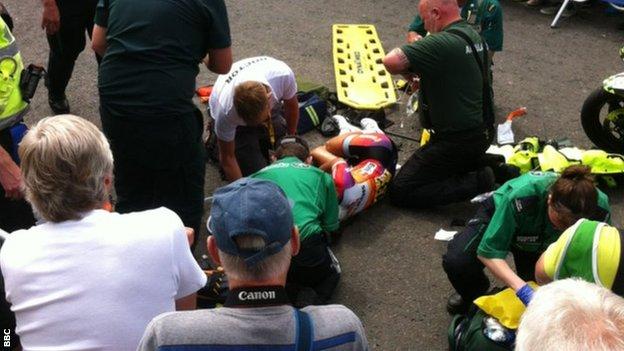 Lizzie Armitstead says her team-mates thought her career would be over after her crash at the Women's Tour.
She suffered a sprained wrist and a dead leg, and was ruled out for the rest of the competition.
"I think they thought my career was over after I was carted off," the Boels Dolman rider told BBC Radio 5 live.
"They were all worried about me.
"I was in that much agony I believed there was a bone sticking out of my leg. It was fairly dramatic."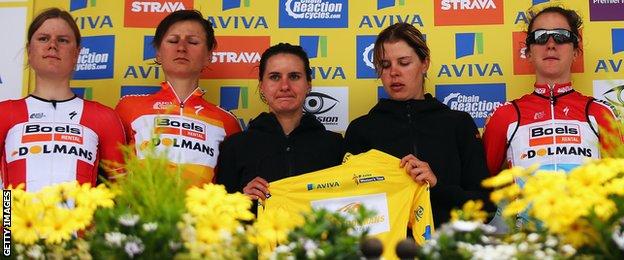 The Commonwealth road race champion was conscious while being treated by paramedics immediately after the crash but she says she does not remember being taken to hospital.
Armistead's team-mates collected the winning race jersey on her behalf.
"I'm better than I expected to be. It's always difficult to pull out of a race - it leaves you feeling a bit miserable," she added.
"We've all been there, it's part of our sport. I'm disappointed but it could have been much worse."
Armistead's father, John, found out about the crash via a phone call from her team manager and then looked up the incident online.
"I explained I hadn't seen anything in the media. This was the first I'd heard of it," he said.
"I went straight onto the internet to see what had happened. You could see it from every angle. It was pretty dramatic. But that's part of being a parent of Lizzie."
Now out of hospital, Armitstead is aiming to return to action for the National Road Championships in Lincolnshire on 28 June.