Tour de France could be withdrawn from 2016 UCI calendar
Last updated on .From the section Cycling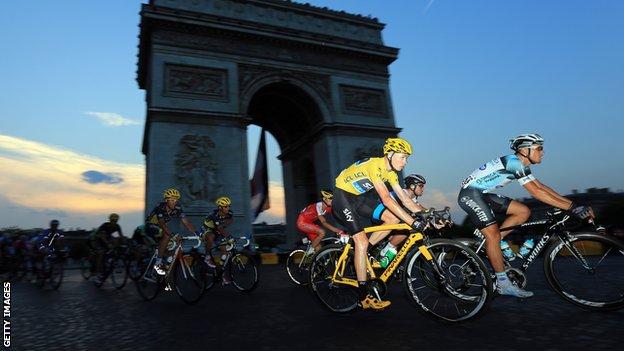 The Tour de France could be withdrawn from next year's UCI international calendar, it has been claimed.
Tour owner Amaury Sport Organisation (ASO) is understood to be worried about a lack of progress in governing body UCI's reform programme, report Reuters.
There is no immediate risk of the 2016 Tour and ASO's other big races not happening, but they could do so outside of UCI control.
In response the UCI said: "We have been working for many months on reforms."
The proposed changes that the UCI wants to bring in next year include fewer teams in the top flight, an effort to avoid race clashes and a big race every weekend.
"There is a general consensus on the direction towards which the reform should be driven," said a UCI statement.
"We are hopeful of finalising soon our discussions with all stakeholders, whether races organisers, teams, riders, around a project that will restore the credibility in our sport.
"We want to promote the sport in both existing and new markets, make the cycling season understood and attractive to fans and recognise the UCI WorldTour as part of a larger and interdependent system."
ASO also owns top tier classics Paris-Roubaix and Liege-Bastogne-Liege, and the Vuelta a Espana.
BBC Sport has contacted ASO but has yet to receive a response.
BBC Sport cycling correspondent Matt Slater
This is one of those stories that can seem very complicated - and it is, if you get into the detail of the UCI's proposed reforms and bring in issues like revenue-sharing - but it is actually quite simple.
The UCI wants cycling's season-long narrative to look more like F1: a series of big races, spaced out over a year, with no overlaps, everybody there and a clear winner at the end.
ASO, a family-run private company, likes things the way they are, which is with it owning two of the three Grand Tours, two of the five biggest one-day races and a growing number of smaller stage races.
Irresistible force meets immovable object.