Alex Dowsett wins fourth UK time trial in dominant fashion
Last updated on .From the section Cycling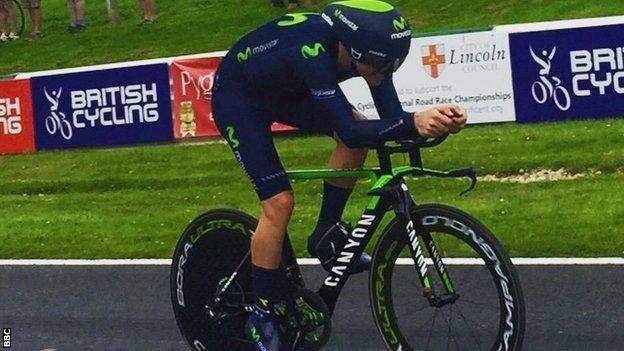 Alex Dowsett won a joint-record fourth British time trial title after dominating at Cadwell Park.
The 26-year-old, who won from 2011 to 2013, took the title back from Sir Bradley Wiggins, who was not racing as he concentrates on track cycling.
Dowsett set a time of one hour, 11.13 seconds over the 27.8-mile course, beating Edmund Bradbury by three minutes, 31.12 seconds.
Hayley Simmonds won the women's race, with Scott Davies the under-23 victor.
The race combined Lincolnshire roads and the track at the Cadwell Park motor racing circuit.
"That was tough," Commonwealth Games champion Dowsett said. "I didn't have a radio so I had no idea where I was in relation to anyone else.
"The course itself - in training I thought it would be easier in the race but it was actually harder, so I had no idea how well I was going out there.
"I had a bit of a moment on the second-to-last corner around. I've got quite a few friends who race British Superbikes and I'm not going to hear the end of it from missing that apex."
Stuart Dangerfield is the only other rider to win four time-trial titles.
For full race results click here (external site).