Tour de France 2015: How Utrecht is hosting the Grand Depart
By Steve Crossman
BBC World Service Sport in Utrecht
Last updated on .From the section Cycling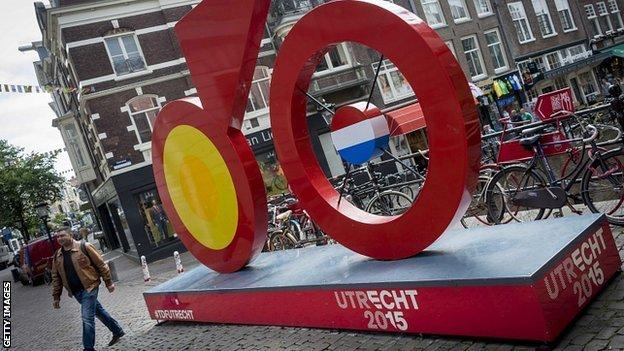 It's 11 May 2002 and the city of Groningen in the Netherlands is hosting the first stage of the Giro d'Italia.
A great day for Dutch cycling, and not just because the world's best riders are sweeping through the streets in the north of this cycling-mad nation.
Because, 120 miles to the south in a local bar in Utrecht, journalist Jeroen Wielaert is enjoying a beer with his friend Jan Fokkens while they watch the opening time trial on television.
Then Wielaert has his Eureka moment. He slams down his pint glass, flips over his beer mat and begins to scribble what proves to be the first draft of his pitch to bring the Tour de France to this city of 330,000 people.
"I quickly came to the conclusion that this ain't no silly joke in a bar anymore," enthuses Wielaert. "This is possible, Utrecht can do this.
"Earlier this year, 13 years later, I was joking with [Tour de France director] Christian Prudhomme and we decided I am the fou romantique, the romantic fool. I may be a fool, but I'm a realist as well. I never would have started this whole thing if I didn't know the potential of Utrecht."
An early puncture to repair
Initial reaction to Wielaert's proposal was sceptical. "It took a while to convince the people," he admits. "'We are too small, we are Utrecht, we can't do this', they said."
But thanks to support from the city's mayor at the time, Annie Brouwer, and one of her deputies, Hans Spekman, Wielaert's back-of-a-beer-mat stream of consciousness - now framed on a wall of his home - became the bedrock of a genuine bid. A bid which failed at the first attempt.
2010 was supposed to be the year, but the Tour went elsewhere. And not just anywhere.
Imagine putting together Barcelona's bid to host the World Cup final at the Nou Camp, and seeing it go to Real Madrid's Bernabeu instead. That's how it must have felt for Utrecht when Rotterdam was awarded the Grand Depart.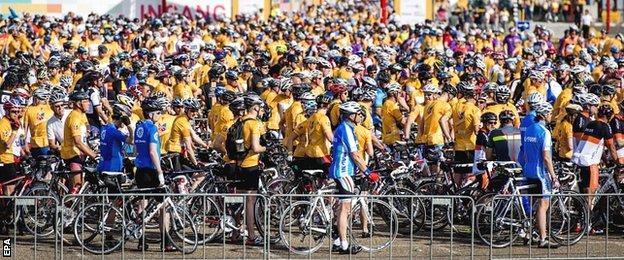 Both cities belong to regions with legitimate claims to be the spiritual home of Dutch cycling, but for Wielaert and his supporters, the bitter blow was mercifully short-lived.
"In 2011, the city hall called and said, 'Jeroen, in 2015 we will have the Tour'," he recalls. "But they told me it was forbidden to say anything, so it still had the profile of a rumour. Not until 2013 was it hard news."
'Once you can walk, you are on a bike'
There is a Dutch saying that if you put your head above the parapet, it will get chopped off. If Jeroen Wielaert had kept his head down, the one million people descending on the city this week for the start of the world's greatest bike race would be heading elsewhere.
It's true that people in Utrecht seem more confident on two wheels even than they are on two feet. Cycling is "nearly religious" according to Wielaert, while other locals say they are living "in the land of two wheels".
"In Utrecht, riding a bike is the first thing you learn," shoe shop owner Jordi tells me. "Once you can walk, you are on a bike."
The sixth Dutch city to host the Tour - after Amsterdam (1954), Scheveningen (1973), Leiden (1978), Den Bosch (1996) and Rotterdam (2010) - has scrubbed up well ahead of the Grand Depart.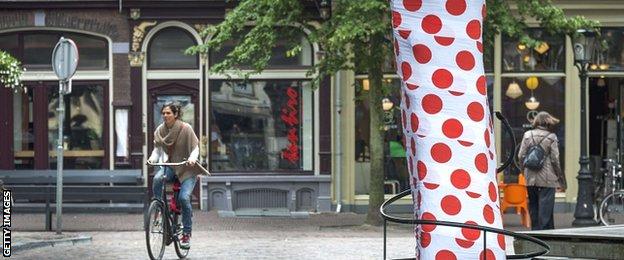 Trees are wearing polka dot capes in the city centre under the Dom Tower, the tallest building in Utrecht, while pillars at a canal-side restaurant now wear yellow jerseys and bright sunglasses.
Miffy the rabbit - Utrecht's global brand
The Tour de France may be bringing Utrecht to a worldwide audience, but the city already boasts its own global brand.
As the 198 riders circle the city during the first stage on Saturday, they are more than likely to catch a glimpse of Miffy, a cartoon rabbit that has been chosen as the mascot of the Grand Depart.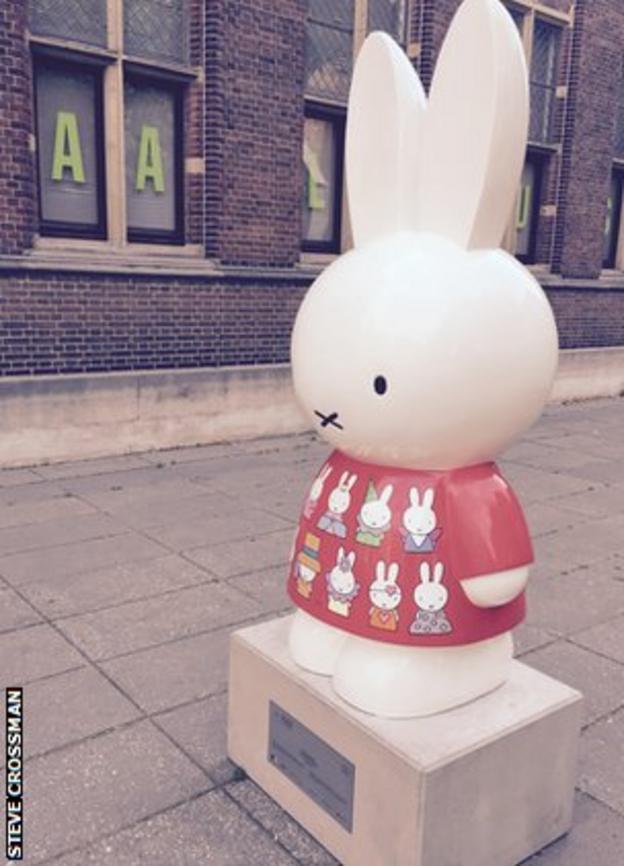 Local author Dick Bruna drew the first simple etching of Miffy in 1955. Sixty years on, his stories - "they are of the bigger questions in life - Miffy goes to hospital, Miffy loses her grandfather..." says Dutch cycling commentator Jose Been - have sold 85 million copies.
Nobody in Utrecht apparently forgets their first encounter with Bruna's 60-year-old sketch.
"When I was 12 years old I was burned by a hot pot of grease," recalls Centraal Museum director Edwin Jacobs, who is opening a new 100m-square Miffy exhibit to coincide with the anniversary and the Tour's arrival. "I was in the hospital for over eight months and there were these lovely green curtains in my room. On the curtains were… Miffy," he smiles.
"Miffy has become not just a mascot but a kind of identification," Jacobs adds. "The Grand Depart has a grand cultural heritage and we have another with Miffy in its meaning for Utrecht and for Dutch culture.
"The Tour de France is lucky to be associated with Miffy," he grins.
No reverence please, we're Dutch
If the bond between Miffy and the Tour is now cemented for Utrecht citizens, their relationship with Dutch success in the race is slightly more complicated.
One journalist recalls being hit by a bottle thrown into his car window as he drove past 'Dutch Corner' - a group of notoriously fanatical orange-clad fans who line the legendary Alpe d'Huez climb in France where Dutch riders won eight of the first 14 stages to finish at the famous ski station.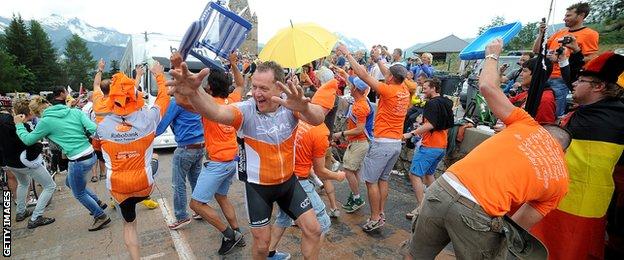 But cycling crazy as this nation is, only twice has a Dutch rider won the overall general classification - Jan Janssen in 1968 and Joop Zoetemelk in 1980.
Former rider Jac van Meer, who competed in the 1985 Tour, thinks that attitude is part of the problem. He is adamant Janssen, a close friend, is more revered outside his home country.
"The Dutch people are like this…'Now is the moment, you are the winner, OK'. But one month later, 'You are no longer the winner, you are out of the picture'," Van Meer explains.
"When Jan Janssen is here on the streets, some people will know him and say hello. But when he is in France, every day he'll have to give his autograph. Over here they just say, 'OK, keep it quiet'."
First-stage hero? On the wind and a prayer
If the Dutch don't like to let their heroes bask in their success for too long, they remain optimistic of a local rider coming to the fore in Utrecht.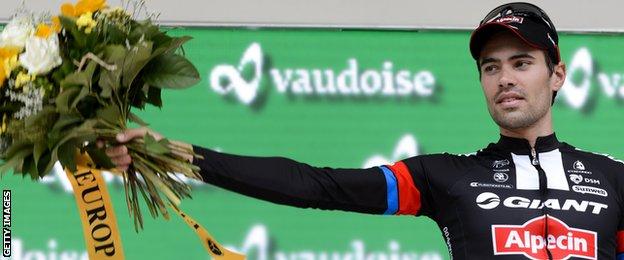 "We are hoping for a first yellow jersey in 25 years," says Jose, a lady in her mid-30s, as she eases around the first-stage route on a rented bike. "We hope it's going to be Tom Dumoulin [who won the prologue and final stage of the recent Tour of Switzerland]. All the people at the side of the roads will give him at least five bonus seconds," she jokes.
Dumoulin is one of 21 Dutch riders - second only to the 40-strong French contingent - among the 198 starting the race.
And while none are expected to challenge the main contenders, familiarity with local conditions could come in handy on Saturday.
The Netherlands is famously flat but cycling around Utrecht, you feel the force of the crosswinds which could prove a factor on the 13.7km individual time trial.
"You can basically lose the Tour on day one," Jose says. "People - not riders, but spectators - are basically praying for wind."
Listen to Miffy Rides Again: Tour de France on BBC World Service's Sportshour programme.