Geraint Thomas hails 'great day' in Tour for Team Sky
Last updated on .From the section Wales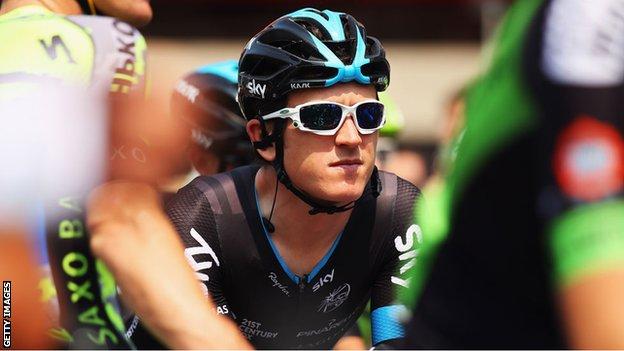 Geraint Thomas hailed a "great day" for Team Sky after helping Chris Froome claim the leaders' yellow jersey at the end of an eventful third stage.
The team managed to avoid a multi-rider pile-up which ended overnight leader Fabian Cancellara's race.
"Fortunately we were always in a decent position and stayed away from the big crashes," said Thomas.
The 27-year-old Welshman is in ninth place, one minute, three seconds behind his team-mate and 2013 champion Froome.
"It was a great day for the team," added Thomas.
"Everybody committed from the start until the end it was as stressful as ever, but for Froomy to finish it off and really show his form - it was a super day."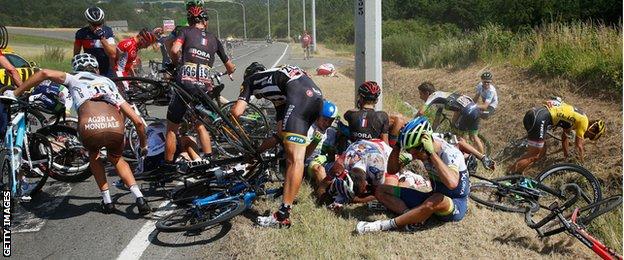 The 2014 Commonwealth Games road-race gold-medallist admitted he was frustrated when the stage from Anvers to Mur de Huy was halted following the crash, because the riders were not told the full circumstances at the time.
The stage was neutralised by race directors, meaning the riders continued at a sedate pace to allow those caught up in the crash to catch up.
However, with all doctors at the race tending the wounded, the race was eventually stopped, around 50km from the finish.
"When you realise why they did it [stopped the race] - a shortage of doctors and ambulances - you can see help for the riders is paramount," he added.
"[But] I only found out at the finish, and it was a bit annoying at the time because we were all fighting for a good position and then guys who were 50th come past you when you're stopped so you kind of thought something really bad had happened.
"But when you find out it's fair enough really."