RAAM: Shusanah Pillinger 'saw goblins' during 3,004-mile race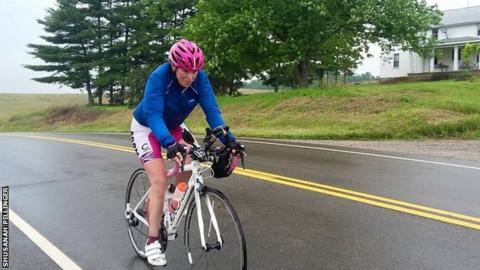 Ultra-cyclist Shusanah Pillinger says she "saw goblins" as she made history by completing the 3,004-mile Race Across America (RAAM) last month.
The 39-year-old Briton completed the race from California to Maryland in 12 days, nine hours and 14 minutes.
She said hallucinations during her "witching hour" were common.
"It's weird, but once you've seen it, you're not quite as shocked. None of them look particularly friendly. A lot of them are ugly looking," she said.
Pillinger became the first British woman to complete the RAAM. Only seven British men have achieved the feat, with Chris Hopkinson the first in 2005.
She made it 2,150 miles into her RAAM attempt last year before breaking her collarbone.
Pillinger said cycling in "extreme weather" was one of her biggest challenges, particularly through the Californian desert.
"It was about seven degrees higher than last year and I was overheated at one point and had to be taken off the road to be cooled down by my team," she told BBC Radio Cambridgeshire. "My body temperature went up to about 39.5C.
"When we got to the Appalachians we were in big storms, really threatening black skies which I have never seen before. There were rain drops like the size of golf balls.
"I was so distraught that I thought my race would be ruined by rain."
When asked whether she would have any interest in completing the race again, Pillinger said: "I think it's done.
"No one can take away the fact I was the first British woman to do it. I've set a time that I think is reasonable for other women to have something to aim for."