Tour de France 2015: Geraint Thomas's most stressful start ever

By Geraint Thomas
Team Sky's six-time Tour de France rider
Last updated on .From the section Cycling127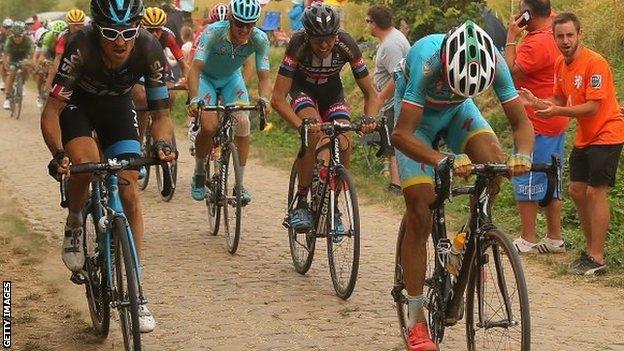 It's been the most stressful start to the Tour de France I have had in six attempts.
The stress of the group was definitely heightened this year, and every day has been important in terms of the general classification. Everyone has wanted to be right up at the front.
On stage five, from Arras to Amiens, teams were drag-racing each other over 180km. It was crazy. You couldn't relax for a single moment or you would have hit the back.
You could see over the past three days or so things began to settle down and everybody was happy to ride easier for a bit, but it was a constant battle.
Here are five things we've learned in week one as we head into Monday's rest day with Chris Froome in the race leader's yellow jersey...
Crashes are inevitable
Everyone always says there seems to be more crashes every year, but I think it's pretty much the same, although this year there's certainly been some high-profile ones.
Tony Martin broke his collar bone on stage six, one day after taking the yellow jersey, and Fabian Cancellara fractured two vertebrae in his lower back the day after he took the race lead.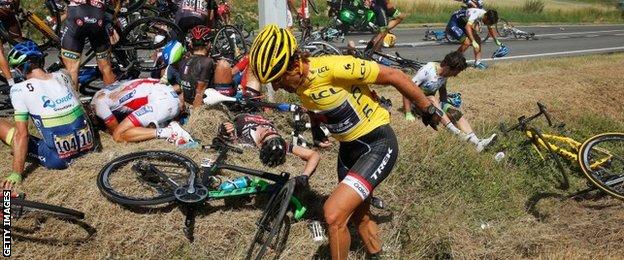 It's never nice to see anybody crash out, and it's certainly not nice watching it played back on TV, but that's bike racing.
Chris Froome had to right himself after a minor collision but that was just the one that was caught on camera.
Things like that happen all the time with the fighting for position. You are so often on the limits of crashing that on certain stages there are five or six times when you've almost come off.
Being in yellow is great
It so happened Froomey ended up taking the yellow jersey and having it at this stage of the race does help him. He's in a great position. The mentality is different because he can defend it rather than having to go out and gain time.
Whatever had happened, as a team we would have ridden the first week in the same way, riding hard to keep Froomey protected and on the front, using guys to keep him in position.
Having the yellow also gives everybody within the team that extra motivation to ride even harder. I don't think it could ever be a negative thing.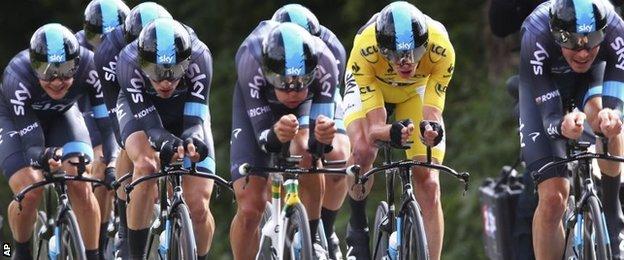 There was a lot of talk beforehand about how Froome would cope with the wind, the cobbles and the narrow roads of the opening week, and he has been super motivated to get out there and prove people wrong.
He crashed towards the end of the Fleche Wallonne this year and took a bit of stick, and you could see when Vincenzo Nibali attacked on the cobbles on stage four Froomey was right there on his wheel, always wanting to push on.
And on the Mur de Huy he showed he's got climbing legs as well. That attitude filters down to us. It helps us to give him that extra bit as well.
The 'big four' is really the 'big five'
Leading contenders (time behind race leader)
1st:
Chris Froome (Sky) 31hrs 34mins 12secs
2nd:
Tejay van Garderen (BMC) +12secs
5th:
Alberto Contador (Tinkoff-Saxo) +1min 03secs
9th:
Nairo Quintana (Movistar) +1min 59secs
13th:
Vincenzo Nibali (Astana) +2mins 22secs
Tejay van Garderen needs adding to the list of potential winners.
He looked really good in the Tour de France's warm-up race, the Criterium du Dauphine, and there's no reason to say he can't perform as we head towards the mountains. He is certainly one of the guys who will be fighting for the win, and I would expect him to be in the mix.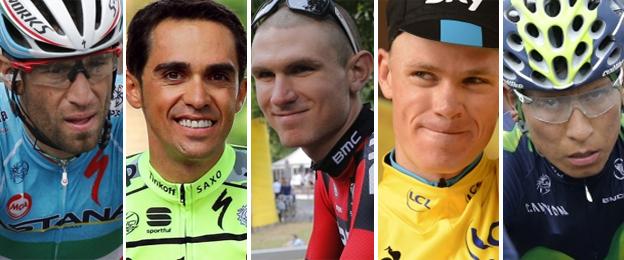 It's always hard to tell in the first week when you haven't been up any proper hills, but when I heard Nibali and Nairo Quintana were losing time on stage two it was surprising, but it was a good feeling.
And Nibali losing a further 10 seconds on Saturday was also really surprising. You never know, it could just be that he had a bad day - after his crash he might have a little issue - but you really wouldn't think he would have lost time on a stage like that.
You can never write off Alberto Contador, although there's a chance he could begin to struggle in the last week's racing because his effort in winning the Giro d'Italia earlier this season will have taken a lot out of him.
Quintana is certainly going to be one of the guys to push on in the mountains, but he is going to have to be aggressive and ride on the front as he's got around two minutes to make up. He'll have to risk more, and he could go too early.
Cavendish can still sprint
Mark Cavendish seems pretty relaxed now he's got his first Tour stage win in two years, with victory on stage seven. In fact he looks even more relaxed than normal.
He's been joking around, having a laugh at the start of each stage and just seems to be in a good place mentally.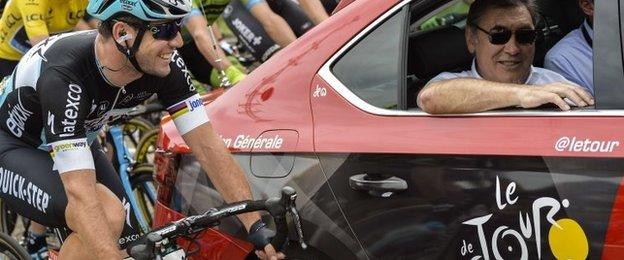 He really wanted to get that win after the disappointment of just missing out on stage two. You could tell that really pushed him on. And when Cav really wants something, nine times out of 10 he gets it.
You could see it meant a lot to him and that was great to see.
We're a long way from Paris
We've been racing really hard for pretty much the whole of the first week, so I wouldn't say that the Tour only gets started in earnest when we hit the mountains - Froomey's got almost two minutes on some guys already.
But when the terrain changes, the style of the racing will change. It will be interesting to see how the general classification favourites go.
When you get to the Pyrenees you have to control the starts of races and sometimes it's easier if another team had the yellow jersey, although obviously not a rival in terms of winning the overall race.
It is Bastille Day after Monday's rest day and there is a big chance a breakaway could win the stage as there's only one big climb at the end. To control the race on a day like that takes a lot of effort, although you thrive off the morale of having the race leader in your team.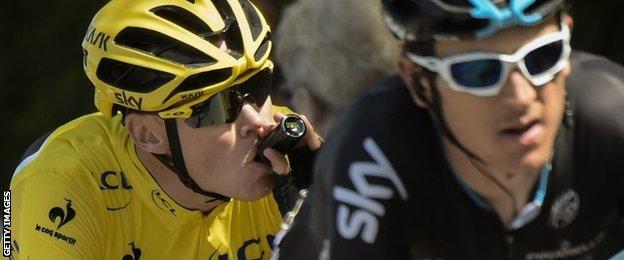 In terms of my role, we'll have to see how I'm feeling after the first day in the mountains, but I guess I'd be starting towards the back somewhere, maybe in front of team-mates Richie Porte and Leopold Konig.
Cycling is massively a team sport but people don't always see that - they just see the one guy on the podium at the end.
So it's been nice to hear some appreciation for the efforts I've been putting in. Hopefully I'll still be there on the final climbs to help Froomey over the next two weeks.
Geraint Thomas was talking to BBC Sport's Patrick Jennings.
Listen to the stage nine podcast from the BBC Radio 5 live team in France.