Tour de France: Chris Froome data released amid doping claims
Last updated on .From the section Cycling
Team Sky have released some of Chris Froome's performance data at the Tour de France in an effort to end doping speculation, with boss Sir Dave Brailsford saying he wants people "to be able to judge for themselves".
On Sunday, a commentator on French TV questioned his dominant Stage 10 win.
"We thought we'd give people concrete numbers and facts," said Brailsford.
On Tuesday - the race's second rest day - Brailsford invited Team Sky's head of performance Tim Kerrison to reveal the real numbers behind Froome's display at La Pierre-Saint-Martin.
It took place on 14 July and saw Froome launch a devastating attack with 6.4km left that culminated with the Team Sky rider winning the stage and also taking significant time out of all his major rivals.
BBC Sport's Matt Slater on BBC Radio 5 live
"France 2, the host broadcaster, slightly ambushed Froome with what they claimed was an independent sport expert who had analysed Froome's climb last Tuesday. They analysed that last 15km climb and came up with some very, very out there numbers which really would make anybody think about those Lance Armstrong days.
"France 2 put pictures of Armstrong up against the Froome climb and Brailsford was furious about that. The atmosphere with all journalists the last few days has been very, very tense."
Team Sky's unprecedented decision to release the data - likened to a Formula 1 team allowing rivals to examine its cars - comes after French TV had suggested the amount of power generated by Froome on his climb was "abnormally high".
Froome, who has a lead of three minutes and 10 seconds with five stages remaining, has previously described critics on social media who try to interpret power data as "clowns", adding that it means nothing without context.
"From a public relations point of view it has probably been the right response to release the information," said Bob Howden, president of British Cycling.
"But it could be challenging for Team Sky if it gives further oxygen to conspiracy theorists who might not appreciate the context and the content of the data being put before them.
"You cannot prove that you are doing nothing, all you can do is create a culture where people develop trust in what you are doing."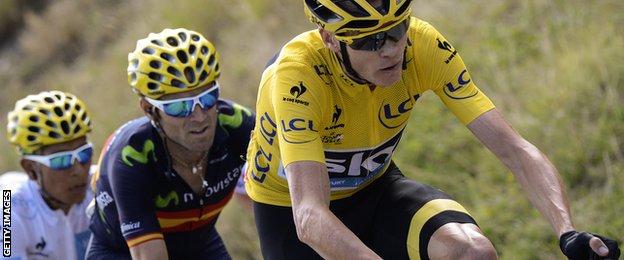 Froome is unsure whether the release of the data will convince sceptics, but welcomes the team's desire for transparency.
"I'm not sure if numbers are going to fix everything," said Froome. "Certainly I feel as a team and myself, we're definitely trying to be as open and transparent as possible.
"We've been asked more questions than any other team. I've been asked more questions than any other general classification contender. I'd like to think we're answering those questions.
"I really am focused on the racing side of things. I've worked too long to let anything throw me off. That's all just happening on the side."
Rivals attack Froome 'lynching'
Froome's Tour rivals have defended the Briton, criticising the lack of respect being shown and complaining he is being tarnished by previous doping scandals in the sport.
Nairo Quintana, Movistar: "There are always good and bad comments, there are always fanatics in one way or another, rivalries between countries - for that reason you get certain comments.
"For me, there's been a little bit of lack of respect for the sportsmen and if anyone should judge, it's the testers."
Tejay van Garderen, BMC: "I think it's pretty unfair for him. He's definitely dealing with the aftermath of what other people have done before him.
"I think he's a talented rider who definitely pays close attention to detail. I don't think his ride on Saint-Martin [stage 10] was out of this world like some people said.
"If I look at the numbers that I did and the time he did, it's clear he dealt with the heat and dealt with the rest day better than other people did."
Alejandro Valverde, Movistar: "It's not a surprise that he's leading the Tour - he's already won a lot in his career.
"It's a lynching. He's a great rider with a strong head, but I don't know if he's paying for all this pressure he's enduring."
Will the data silence the doubters?
BBC Sport's Matt Slater in France: "Team Sky's decision to release the performance data for the climb that may end up winning this race is a bit like Mercedes F1 letting the rest of paddock have a good look under the bonnet or an NFL team posting its playbook online.
"This is the intellectual property that Team Sky believe sets them apart from the rest, and they have only previously shared it with the anti-doping authorities.
"They have done it out of frustration at how the low-level sniping Froome has faced in recent years has opened up into an all-out assault.
"Will it work? Probably not: there is no agreed formula for a Tour champion and sports scientists like an argument as much as the rest of the us.
"But Team Sky felt they had to address the false picture portrayed on French television on Sunday when Sir Dave Brailsford was ambushed by an "expert" wielding guesstimates.
"It might have made for good TV but it was decidedly iffy science."