Tour de France chiefs call for fans to respect yellow jersey
Last updated on .From the section Cycling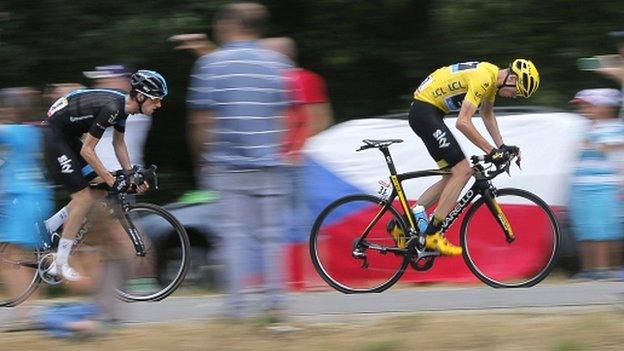 World cycling's governing body and Tour de France organisers want fans to "respect the yellow jersey" in the Alps after incidents affecting leader Chris Froome and other Team Sky members.
Teams Sky's Richie Porte said he had been punched during stage 10.
Organisers said they "regretted the aggressions" Froome had suffered.
Team Sky, and Froome in particular, have been accused of doping after an impressive performance in this year's Tour where the 30-year-old holds a lead of three minutes 10 seconds after stage 18.
Despite always insisting he is a clean rider, Froome's climb to victory during stage 10 drew questions from sections of the French media.
A French physiologist suggested the amount of power generated by Froome on his climb was "abnormally high" but Team Sky boss Sir David Brailsford said the figures released were "wildly wrong" and was forced to release Froome's performance data.
Following the spectator attacks on Froome, the Union Cycliste Internationale (UCI) and Amaury Sport Organisation (ASO), organiser of the Tour de France, issued a joint statement asking fans to improve their behaviour.
Team Sky's Geraint Thomas was asked if the reminder to fans had come too late but, having condemned the abuse last week, the Welshman said: "The fans down the roadside have been super. There have been so many Welsh and British flags even quite a lot of 'Allez Froomey' from the French."
The joint statement said: "The peloton of the 102nd edition of the Tour de France enters a decisive phase of the race as it enters the Alps, where the riders require optimal conditions in order to perform to their best before arriving in Paris on Sunday.
"UCI President Brian Cookson and Tour de France director Christian Prudhomme ask crowds along the roadside to respect every rider, and the integrity of the riders and in particular the yellow jersey.
"The UCI and ASO publicly regretted the aggressions suffered by the leader of the overall classification from some spectators during the 14th stage between Rodez and Mende, while at the same time thanking the large majority of the public which respects the athletes."