Tour de France 2015: Why are Team Sky so successful?

Last updated on .From the section Cycling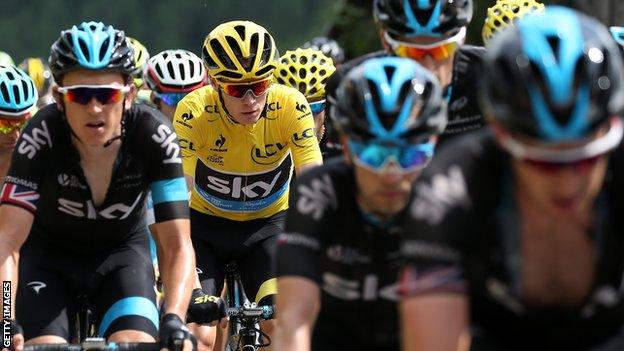 It was hot, cramped and tense, and nobody's mood was helped by the constant swatting of flies - the price you pay for staying at a hotel adjacent to an abattoir.
But Team Sky principal Sir Dave Brailsford looked like he was enjoying himself.
After all, on the second rest day at the 2014 Tour de France, with Chris Froome having crashed out and no stage wins to speak of, only a handful of reporters came to Team Sky's news conference.
That left Brailsford and his head of athlete performance, Tim Kerrison, free to go for a long bike ride instead.
A few days later the pair were joined in the company car by the team's equipment guru, Carsten Jeppesen, and Rod Ellingworth, the head coach.
They had a six-hour drive to Paris and a new five-year plan to come up with. The old one, which had brought two Tour titles in five years, had been picked apart and plagiarised so many times it was no longer the revolution on the road it had been when it worked so beautifully in 2012 and 2013.
The truth is probably a little less dramatic when it comes to the plan, and no doubt involved a lot more conference calls, spreadsheets and conversations with riders' agents.
But it is a good story because it reveals two things that go some way to describing what separates Team Sky from the herd.
One, Brailsford is a terrible loser.
And two, he has never found a method that cannot be improved. He often refers to elite sport as a running machine: stop moving forward and you fly off.
It was in January in Majorca this year that British Cycling's former performance director started to drop a few hints to journalists about what the new plan, or 2020 vision, looked like.
He talked about sleep a lot, which seemed a bit strange until Richie Porte turned up at the Giro d'Italia in a mobile home and everything suddenly made sense.
The International Cycling Union (UCI), the sport's governing body, and Amaury Sport Organisation, the owners of the Tour, joined forces to block Sky's plan to bring a mobile home to the Tour for Froome.
They said it opened up a "have" and "have not" divide in the peloton and the stage hosts would miss the hotel trade - so Brailsford brought his own to prove a point.
What had appeared to be a slightly crackpot idea a few months ago, is already being openly discussed by riders from all teams as the next great idea they can pinch from Team Sky.
Brailsford also said the team, often lampooned for being too robotic, was going to invest in even more technology and said he was off to California's Silicon Valley to see what he could learn.
And when he talked about how data could transform the sport, he started to sound like a cross between former England rugby coach Sir Clive Woodward and former Apple boss Steve Jobs.
There were some more obvious changes, too: a lot of new faces.
With Sir Bradley Wiggins' move to his eponymous team and post-Rio retirement, there was a healthy chunk of wage bill to reinvest, which the team had done wisely in the off-season.
In Leopold Konig, Wout Poels and Nicolas Roche, they had signed a potential team leader, deluxe help for Froome in the mountains and proven Grand Tour experience.
There was even some spare change for Tour de Yorkshire winner Lars Petter Nordhaug and young Scottish rider Andy Fenn.
Any discussion of Team Sky's success has to acknowledge the fact they are not the peloton's plucky minnows. Whether they are the sport's Barcelona, Manchester City or Paris St-Germain is unclear, as they are in a very small minority of teams that actually publish financial data, but they are in that bracket.
Their 2014 budget of £24.5m was up 11% on 2013's figure, but 16% when you factor in the fluctuations of the pound-euro exchange rate.
But Astana, BMC, Movistar and Tinkoff-Saxo are hardly paupers, either, with the latter almost revelling in their status as cycling's "galacticos".
None of these teams, however, spend as much on coaching, training kit or support staff as Sky do, although the gap has closed in recent seasons as other teams have cottoned on to the idea that a £900,000 rider with £100,000 worth of coaching is better than a £1m rider.
What is noticeable is that Team Sky just have more bodies and more vehicles than anybody else here.
The team's new mobile kitchen - bought for a song when Trek Factory Racing decided not to buy it - has attracted most of the headlines, but it is only one of the 15 vehicles Sky moves from hotel car park to hotel car park. It is small wonder some rivals have felt squeezed out.
At the start of this year's Tour in Utrecht, Team Sky was sharing digs with German team Bora and Australia's Orica-GreenEdge. The British fleet actually reached 17 that weekend - I was told it was because the team's logistics base was nearby in Belgium so they had just brought a lot of spare kit - which was two more than the other teams combined.
The kitchen is a beauty and it enables the team's chefs to cook exactly what the nutritionists tell them to cook, without having to make compromises based on what they find in hotel kitchens.
The mechanics have what looks like a mobile operating theatre to work in and transport the 47 bikes they have brought to the race, as well as the 20 spare frames and 107 wheels.
And the team's platoon of "carers" also have their own mobile home to relax in between duties that range from cleaning hotel rooms and making the riders' beds with their own bed linen, to rushing about France making sure Froome and co have enough food and dry kit.
Most of the other teams try to do this, too, and some of them get close, but talk to any new arrival at Team Sky and they all agree this is a different level of service.
This may all sound a bit soft to some old-time cyclists, and there are those who believe all this can lead to spoiled athletes, unable to think for themselves. But when you see Team Sky riders warmed down, fed, showered and changed while others are still looking for their team cars, you can understand how these additional moments of calm can add up over a three-week race.
If that all sounds a bit, well, marginal, Team Sky have also made huge strides in the last year or so on two items of kit that really matter: what they ride and what they wear.
When the team changed its kit supplier from sportswear giant Adidas to niche cycling brand Rapha at the start of 2013 it seemed like a bit of a gamble for both parties: could Rapha do the technical stuff; would Sky dilute the brand?
Nobody wonders that now as the British label has risen to the challenge of meeting Brailsford's exacting standards and weekend warriors snap up Team Sky kit.
But the real improvement has come with the bikes.
This may sound like sacrilege to devotees of the Pinarello brand but the team's early bikes were not considered to be that special.
That is not something you hear any more, with much of this improvement credited to the team's relationship with Jaguar and as a result the bikes are more aerodynamic and less likely to break.
But there are some things that Team Sky have not changed at all.
They still block-book a nice hotel in Majorca for riders to use as a training base in winter, take their Grand Tour teams to the top of a volcano in Tenerife for altitude training and hold mid-season get-togethers in Italy for riders not on race duty.
None of which comes cheap but starts to look like great value when you consider that two-thirds of the advantage Froome had over Nairo Quintana coming into Friday's stage was built on the foundations of a fantastic team ride in the first nine days.
The other third came when the yellow jersey-wearer's team-mates delivered him to the bottom of the first big Pyrenean stage fresher than any of his rivals and let him loose. They have been defending that lead ever since.
There have been no untimely punctures, radio malfunctions or missed feeds: just a well-oiled machine executing a good plan.
Of course, none of the above will satisfy those who think they have a much simpler explanation for Team Sky's success so far in this race, and in previous Tours.
And that is fine, anybody who has followed this sport for a few years will understand that.
But it is very hard to see any actual evidence of doping - as opposed to a lively debate about Froome's physiological gifts - when you watch them up close, talk to them and get to see how they respond to moments of joy and stress.
What you do see is a large group of well-qualified, highly motivated people doing a job they love and have spent a lot of time thinking about how to do even better.