Chris Froome's Tour de France win was Sky's best - Brailsford
Last updated on .From the section Cycling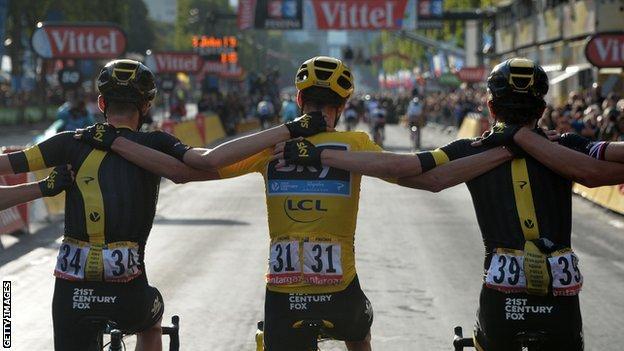 Team Sky's line-up is the best in their five-year history, principal Sir Dave Brailsford said after Chris Froome's Tour de France victory on Sunday.
"It is the best team I've ever worked with," Brailsford told Sky Sports.
"It is a group of world-class guys who are willing to sacrifice everything to help Chris win."
Froome and Wiggins' competing claims to be Sky's lead rider dominated the build-up to the 2013 race, and in 2012 sprinter Mark Cavendish's chances of stage wins were restricted as he helped the team's pursuit of a historic title.
Brailsford said thinly-veiled accusations of cheating from the French media and animosity from spectators on the road-side had helped pull his current line-up together.
"The more people criticised us, the more we pulled together. The dynamic looks after itself in those circumstances," he added.
"The communication, the honesty, the way they committed to one another - it was something fantastic to watch."
After becoming the first man since Eddy Merckx in 1970 to win both the yellow jersey and the King of the Mountains jersey for the Tour's best climber, Froome, 30, has his eyes on another historic double.
Only two men - Frenchman Bernard Hinault in 1978 being the most recent - have won the Tour de France and the Vuelta a Espana in the same year.
The Vuelta - the third Grand Tour of the season - begins in Puerto Banus on 22 August and Froome suggested he was keen to be on the start line.
"I know it would be a massive challenge to back up the Tour by contending in the general classification in another Grand Tour, but that is in the back of my mind," Froome said.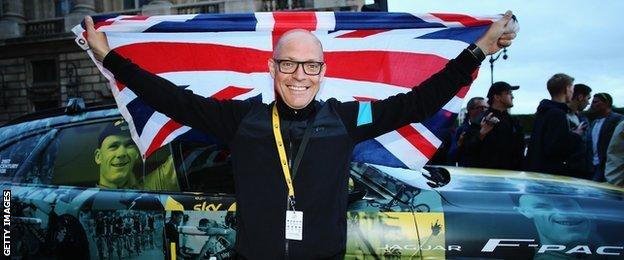 "It is early to say 100%, but that could be on the cards certainly."
Brailsford was more cautious, stressing such thoughts were "a bit premature" and advising Froome and his team-mates to appreciate their Tour de France success first.
However, Brailsford said he himself was already looking forward to attempting to defend Froome's title.
"You need hunger as well as talent to succeed and these guys have both. I'm sure they will be back and fighting," he said.