Tom Danielson: Cyclist fails drugs test but denies doping
Last updated on .From the section Cycling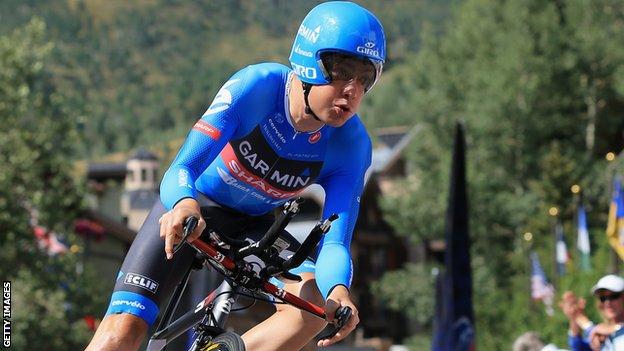 American cyclist Tom Danielson has tested positive for synthetic testosterone - but denies doping.
The 37-year-old Cannondale-Garmin rider has been suspended by his team pending the result of his B sample results.
"I have not taken this or any other banned substance," he said in a series of tweets.
He has admitted to doping earlier in his career and gave a testimony during the US Anti-Doping Agency's (Usada) investigation into Lance Armstrong.
A spokeswoman for Usada told BBC Sport: "We can confirm what Mr. Danielson has already reported, that he has had an adverse analytical finding.
"It is important to note that it is very early in the process and all athletes are innocent until proven otherwise through the established legal process.
"We appreciate Mr. Danielson voluntarily removing himself from competition at this time."

Danielson tweeted about his positive test before it was confirmed by the authorities, saying: "I would never ever take anything like this, especially after everything I have gone through the last years. This makes absolutely no sense.
"I will now, as I wait for the B test, have the supplements I take tested to see if this is what caused it.
"I feel incredibly hurt, frustrated, and angry by this. I don't understand how or why this happened and still can't even accept this is true."
Danielson, who has pulled out of this week's Tour of Utah, was one of six former US Postal Service cyclists banned in 2012 as part of the investigation into drugs cheat Armstrong.
His career-best finishes of sixth and seventh at the 2006 and 2005 Giros D'Italia were annulled, but his eighth place at the 2011 Tour de France still stands.
Slipstream Sports, who manage Cannndale-Garmin, said in a statement: "In accordance with Slipstream Sports' zero tolerance anti-doping policy, he has been suspended from competition, effective immediately.
"He awaits the results of his B sample. Slipstream respects and will adhere to the process of the anti-doping authorities and will not comment further."
Cycling's governing body the UCI has declined to comment.