Tour de Yorkshire: British Cycling rejects plans for fourth day
Last updated on .From the section Cycling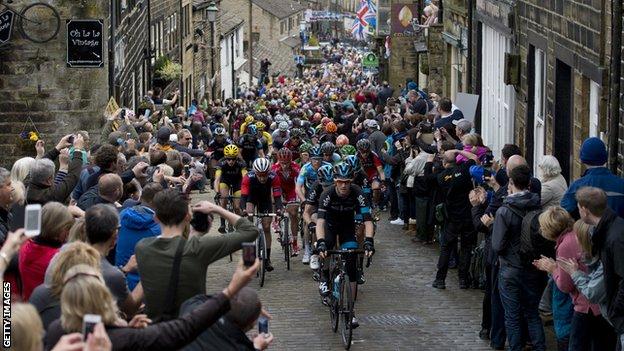 British Cycling has rejected an application to extend the Tour de Yorkshire to a fourth day in 2016.
The event, which attracted more than 1.2 million people this year, is scheduled for the first weekend of May.
The decision, taken on Monday, comes only days after Prime Minister David Cameron backed plans for an extra day.
"We are disappointed by the decision not to support our plans," said Sir Gary Verity, chief executive of co-organisers Welcome to Yorkshire.
"But we've nothing but the highest regard for British Cycling."
The race, held for the first time this year, was set up as a legacy event in the wake of last summer's successful Tour de France Grand Depart, which attracted about 2.5 million people and generated an estimated £100m.
The men's race, which visited parts of Yorkshire that missed out on the Tour de France, was won by Team Sky's Lars Petter Nordhaug.
Louise Mahe won the women's race, which was a two-hour circuit of York city centre.
Welcome to Yorkshire, supported by its partner ASO who own the Tour de France, wanted to upgrade the Tour de Yorkshire's status on the calendar and run it from Thursday to Sunday.
Cycling in Yorkshire: the wheels of change?

A total of £3.43m has been committed to cycling projects in Yorkshire by British Cycling and its main sponsor Sky between 2014 and 2016

British Cycling invested £86,250 in Leeds in 2015, almost £60,000 more than Leeds City Council - six Yorkshire councils may cut cycling investment entirely next year

There were 50 sportives in Yorkshire in 2014, up from six in 2012

British Cycling's women's programme Breeze has trained 140 ride leaders in Yorkshire
They hoped this would enable them to tempt bigger names to the race as well as bringing in sponsors to lift the profile of the women's race.
British Cycling, which is responsible for the racing calendar, does not believe keeping the men's race at three days next year should have any bearing on plans to expand the women's race.
"The Tour de Yorkshire's place in the international calendar is much-coveted in this country and abroad, and we have a responsibility to ensure the best return possible for the sport," a British Cycling spokesman said.
"The decision was also made in the light of the world governing body's reforms of the calendar, expected towards the end of the year, which need to be understood before decisions can be made on British Cycling's major events strategy.
"All the signs are that the Tour de Yorkshire will be successful but more evidence is required before an informed judgement can be made."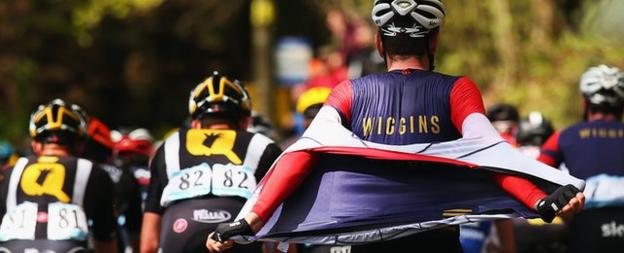 Verity, who was knighted earlier this year for his work in bringing the Grand Depart to the region, added that those plans to expand the race had also received "huge support" from professional teams, broadcasters and local authorities.
"We will continue to support the work of British Cycling in Yorkshire and try to persuade the board to change their minds," he added.
Leeds City Council, a key supporter of the bid to bring the Tour to Yorkshire, echoed Verity's reaction.
"We have an excellent relationship with British Cycling and we are proud of the great things we have accomplished together," said council leader Judith Blake.
"We are, however, disappointed they have decided not to support the proposed development of next year's Tour de Yorkshire."