Cyclefest 2016: Pro cycling back on Isle of Man after 13 years
Last updated on .From the section Cycling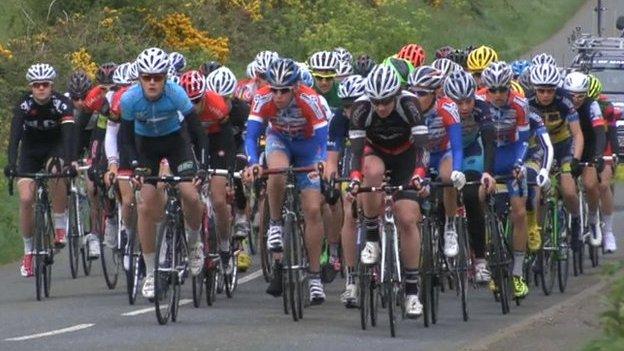 A new annual cycling festival to be held in the Isle of Man next year will see professional racing return to the island for the first time in 13 years.
Organisers of Cyclefest, scheduled for May 2016, have confirmed that a three-year deal has been signed to host a stage of the Tour Series.
Director Paul Phillips said it will be an "epic year" for Isle of Man cycling.
The island previously staged Britain's biggest festival, International Cycle Week, for almost 70 years until 2003.
Tour organisers SweetSpot signed the deal following a recent trip to the island to view the proposed course and facilities.
Spokesman Alastair Grant said they were "hugely impressed" with the professionalism, knowledge and proposals for Cyclefest.
He added: "The Isle of Man has great potential to be one of the best cycling destinations in the British Isles and we look forward to working with the team to unlock that potential."
This year's series included Olympic gold medallists Steven Burke and Ed Clancy, as well as the team run by Bradley Wiggins.