Sport Aid scholarships awarded to 41 Manx athletes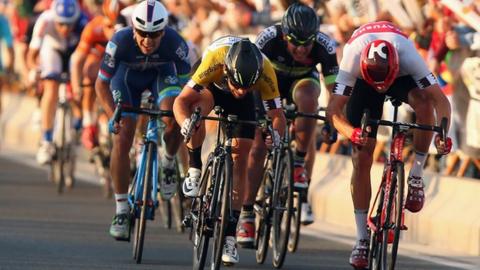 More than 40 athletes from a dozen sports have been chosen for the Isle of Man Sport Aid's (IOMSA) scholarship programme.
Each scholarship provides a combination of financial support towards travel and equipment, plus access to services at the Isle of Man Sport Institute.
Sports performance co-ordinator Chris Quine said it plays a "vital role in developing world-class athletes".
Previous recipients have gone on to win Olympic and world titles.
All 41 recipients were nominated by their sport's governing body before facing a "rigorous selection process" by the IOMSA committee.
Isle of Man Cycling's regional school of racing will also receive support.
Quine said Isle of Man Sport Aid has played a "pivotal role in supporting the development of most of the island's sporting success stories over the past 15 to 20 years".
"A significant number of recipients have gone on to compete at the highest levels, including World Championships and Olympic Games," he said.
Isle of Man Sport Aid is a registered charity and partners include businesses, the Manx government and private sponsors, including Mark Cavendish.
Cavendish, who received Sport Aid at the start of his illustrious career, is one of the scheme's main sponsors.
All scholarships will be awarded at the Isle of Man Sports Awards at the Villa Marina on 22 March.
Award recipients:
Duke Scholarships
Jed Etchells (moto cross)
Max Ingham (moto cross)
TLC Scholarship
Sophie Taylor (equestrian)
CTH Insurance Scholarship
Tom Partington (athletics)
Top Spec Fencing Scholarship
Freya Duchars (hockey)
Tower Insurance Scholarship
Nick Corlett (cycling)
Tom Gandy (golf)
Ramsey Crookall Scholarship
Yasmin Ingham (equestrian)
Nedgroup Investments Scholarship
Anna Christian (cycling)
Rebecca Storrie (triathlon)
JR Moore Trust Scholarship
Ana Dawson (golf)
Elizabeth Clucas Trust Scholarship
Nathan Draper (cycling)
Jake Kelly (cycling)
Aston International Scholarship
Charlotte Atkinson (swimming)
James Maddrell (rugby)
Paysafe Group Scholarship
Ben Batchelor (sailing),
Elizabeth Holden (cycling)
Cavendish Scholarship
Conor Davies (cycling)
Emma Hodgson (swimming)
The Regional School of Racing (cycling)
Albert Gubay Fund for Sporting Excellence - Chase Your Dream
Tom Evans (hockey),
Spencer Cope (rugby)
Sport Aid Recipients
George Blackwell (rugby), Alex Bregazzi (swimming), Brandon Cain (snowboarding), Guy Davies (swimming), Tara Donnelly (gymnastics), Tony Duchars (gymnastics), Tara Ferguson (cycling), Georgia Foxton (hockey), Ben Grainger (swimming), Will Greenbank (hockey), Grace Harrison (gymnastics), Joe Harris (athletics), Josh Hewett (athletics), Brody Hewison (swimming), Laura Kinley (swimming), Jessica Li (badminton), Catherine Reid (athletics), Joe Reid (athletics), Joseph Ricciardi (Triathlon), Bevan Rodd (rugby).
Sport Aid Affiliates
Philip Cringle (rugby), Zoe Gillings-Brier (snowboarding), Tim Kneale (shooting), Dan Kneen (motorcycling), Daniel McCanney (enduro), Jamie McCanney (enduro).