Chris Froome: Team Sky rider back training after being "rammed'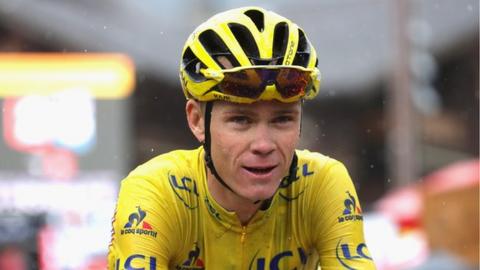 Britain's three-time Tour de France winner Chris Froome is back training after his bike was "rammed" on Tuesday.
The 31-year-old posted a picture of his damaged bike on Twitter saying: "Rammed on purpose by an impatient driver who followed me into the pavement."
Froome was unhurt and praised French police for their response, adding: "I have given them all the details."
The Team Sky rider posted on Twitter that he was back on the saddle after having a new bike flown in.
The incident is believed to have taken place in Beausoleil, near to his Monaco home.
The Team Sky rider is expected to race in next month's Criterium du Dauphine, a race he has won three times.
The race will serve as a warm-up to the Tour de France, which takes place between 1-23 July.