Island Games 2017: Cyclist Ferguson help Manx team to stay top of medal table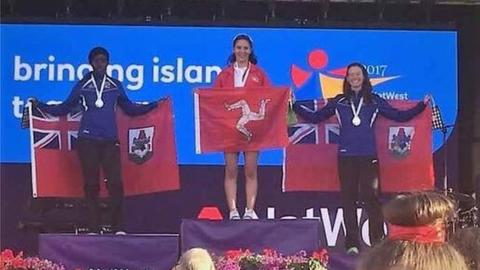 Two gold medals for cyclist Tara Ferguson helped the Manx team to retain top spot in the Island Games medal table in Gotland after day four.
Ferguson won the women's road and helped the Manx team to gold in the same event as the island added five further golds and six silvers.
Gymnast Tara Donnelly added her fourth gold of the games in the overall individual gymnastics crown.
Two further golds were added by the island's swimmers.
Laura Kinley won the women's 100m breaststroke before the men's 4x100m medley relay team added the fifth Manx gold.
The team also achieved six silvers including the men's cycling team, Nicole Burns in the individual gymnastics and Joe Harris in the men's javelin.
Further silvers were won in the pool by Steph Brew (100m breaststroke), the women's 4x100m relay team and Joel Watterson (100m freestyle).
Nick Harvey added a bronze in the men's individual gymnastics to go with his individual high and parallel bars titles.
It meant the island topped the medal table after four days of competition with 22 golds - the same as the Faroe Islands - who have won fewer silver and bronze.
The penultimate day of competition will be held on Thursday with both the men's and women's football team trying to reach the final.
The Games, which act as an Olympics for smaller islands, involves 2,500 competitors from 23 different islands around the world competing in 14 different sports.