Island Games 2017: Nick Corlett golds keep Isle of Man in race to top medal table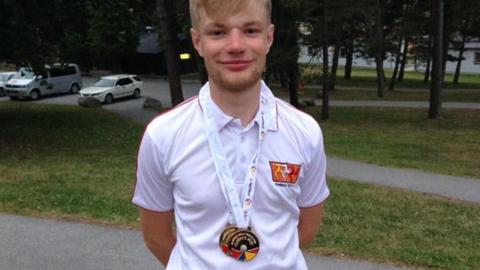 Two golds by mountain biker Nick Corlett kept the Isle of Man in contention to top the Island Games medal table in Gotland.
The Manx team are second in the table, two gold medals behind leaders Faroe Islands ahead of the final day.
Nick Corlett claimed gold in the men's criterium with a sprint finish and his win also helped secure team gold.
The island's third gold on day five was won by swimmer Guy Davies in the men's 200m breaststroke.
It was his third gold of the Games, and there were silvers for the women's and men's 4x100m medley quartets, and in the 4x50m mixed relay - taking the swimming team's medal tally to 25.
There was also a silver for the women's mountain bike team, while the island's archers won bronze in the compound team head-to-head, as did athlete Joe Reid in the men's 400m.
The Games, which act as an Olympics for smaller islands, involves 2,500 competitors from 23 different islands around the world competing in 14 different sports.