Tour de France 2017: Mark Cavendish abuse highlighted by wife Peta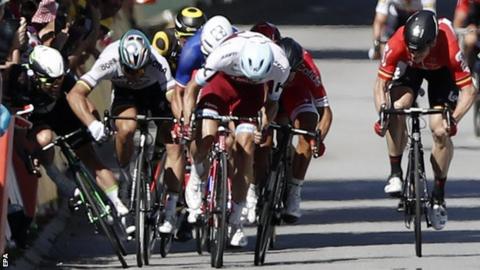 The wife of Mark Cavendish has revealed online trolls have wished their children "get cancer and die in pain" after his exit from the Tour de France.
Cavendish, 32, broke his shoulder after colliding with Peter Sagan, who was disqualified from the Tour on Tuesday.
His wife, Peta, has highlighted comments posted next to a video of her son, while Cavendish has since asked for "vile" social media abuse to end.
Cavendish has also received tweets wishing him "serious injury".
'You're a high school bully'
Cavendish, who has won 30 stages on the Tour in his career, was edged into fencing by world champion Sagan as riders battled for position late on in stage four.
Some on social media apportion blame for the sprint-finish crash on Cavendish, who in the immediate aftermath said he was "not a fan" of Sagan appearing to elbow him off his bike.
One Twitter user wrote to Cavendish saying: "Why are you complaining about the elbow? Stop hiding behind your team. Just admit you caused it #shameonyou."
Another added: "You're a high school bully. You knock people about and can't take it when another kid slaps you back. Crying to your sponsors."
One of the many messages received by Cavendish called the 2016 Olympic silver medallist "an actor and liar".
Cavendish has also received some messages for support and on Wednesday appealed for abuse to end. "Please know that it's sport and I have a family," he posted on Twitter.
"Everyone is entitled to their opinions. But vile and threatening comments on social media to myself and my family aren't deserved."
Stage six of the Tour was taking place on Thursday with Team Sky rider Chris Froome in possession of the yellow jersey as race leader.