Pat McQuaid lobbying against me, says UCI president Brian Cookson

By Dan Roan
BBC sports editor
Last updated on .From the section Cycling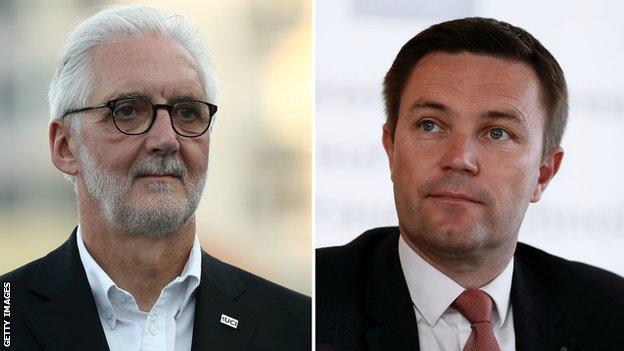 The head of cycling's world governing body has expressed "grave concern" that his predecessor is "actively lobbying" against him.
The sport's most powerful figure - Briton Brian Cookson - is being challenged by Frenchman David Lappartient in next week's UCI presidential election.
Cookson says he has been shown "proof" the man he deposed in 2013, Pat McQuaid, is trying to influence the vote.
In an increasingly bitter fight, Cookson also said Lappartient would take the UCI in a "devastating direction" if he wins.
Lappartient responded by saying the claims were a "clear sign of despair from Brian Cookson and his languished campaign".
McQuaid was among those heavily criticised in a landmark report published in 2015 into the sport's troubled recent history.
Cookson had criticised the Irishman's handling of the Lance Armstrong scandal, prior to beating him in an acrimonious presidential campaign in 2013.
McQuaid has called Cookson "a fraud", and has publicly backed Lappartient.
McQuaid has left cycling politics. But one UCI voting delegate - who does not wish to be identified - has told the BBC that he received an email purportedly from McQuaid urging him to back Lappartient.
'No respect'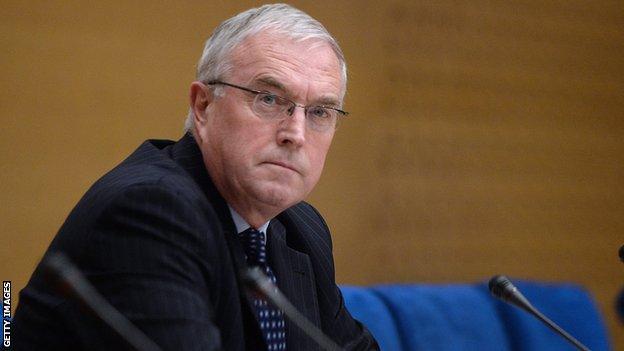 In the email said to be from McQuaid - obtained by the BBC - he says that "cycling stakeholders; teams, riders, organisers have no respect for UCI under Brian.
"Having been president for eight years I know what is involved and how a president should act and lead his sport.
"Unfortunately I haven't seen any of this from Brian these past four years. Indeed, he has abdicated his responsibilities.
"They have a big communications machine behind them which gives the impression everything is rosy but behind the scenes I am aware it is not.
"Brian hasn't made it to any board such as the IOC... and so UCI has little clout in the larger international sporting world.
"...I do think David Lappartient could do a much better job and be a real leader of UCI. So I ask you to support David..."
What Cookson says...
In a statement, Cookson said: "I am aware of the rumours that Pat McQuaid has been actively lobbying on behalf of UCI Presidential candidate David Lappartient.
"I have of course seen the declarations Pat McQuaid has made recently in support of David in the media and I have also been shown proof that Pat is actively lobbying on David's behalf.
"Only they know if Pat has been offered a senior role at the UCI, which would be a grave concern for anyone who can recall the disastrous situation that the UCI was in just four years ago under his leadership.
"I am focused on running my own campaign with the support of people who have contributed to restoring trust in our sport, to take cycling forward and build on the great achievements we have had over the past four years.
"It is, however, disappointing that David Lappartient has not come out renouncing the support of Pat McQuaid, but having hosted Pat and other former executives at the first Elite European Road Championships in France last year, I am not surprised.
"It speaks volumes for the devastating direction David would take the UCI in if he wins next week's election."
What Lappartient says...
Lappartient responded to Cookson's claims by saying the UCI chief's "regrettable action" was part of his campaign strategy and was "false information".
In a statement, he said: "Campaigning doesn't mean be ready to do anything and everything.
"From information I gathered, it has been reported that Mr McQuaid has sent an email to a couple of delegates, whom he knows, by telling them his personal opinion about Brian Cookson and therefore calling on them to support my candidature.
"This was a personal act of McQuaid and not on my demand. By saying "Only they know if…" seems to me, once again, Brian Cookson is certain of nothing. Making false comments like these is unsportsmanlike behaviour.
"To set the records straight, during the Elite European Road Championships in France last year Brian Cookson is referring to, McQuaid called and asked if he could stop by since he was nearby. I immediately informed Brian Cookson, then McQuaid was of course given access to see the race as he asked to.
"It is pitiful that Brian Cookson is not concentrating his time and energy on explaining any vision he may have for cycling development in the next four years. That is what delegates are expecting, and not to delve into and hide behind old stories from four years ago.
"This act is undoubtedly a clear sign of despair from Brian Cookson and his languished campaign."
Election too close to call
Cookson, who has been in office for the past four years, had hoped to be re-elected unopposed for a second term.
But his reputation has been dented by negative headlines about British Cycling, which he led for 17 years, and the country's leading pro-cycling operation, Team Sky.
Lappartient admits the UCI has made progress on tackling doping, promoting women's cycling, growing the sport in new territories and improving its status within the Olympics, with extra cycling events added to the 2020 Olympic programme in Tokyo.
But he believes these areas can still be improved, pledging in his manifesto to overhaul the race calendar, ban corticosteroids, and cap team budgets to prevent teams from dominating the sport.
Both Cookson and Lappartient say they are confident of victory in an election that appears too close to call.
McQuaid could not be reached for comment.
There is no suggestion that he has broken any rules.