Jason Kenny: Six-time Olympic champion returns after secret retirement

By Dan Roan
BBC sports editor
Last updated on .From the section Cycling
Britain's joint most-successful Olympian Jason Kenny has revealed he secretly retired after Rio 2016 but has now reversed his decision.
The six-time gold medallist said he "stepped away" from track cycling because the sport had taken its toll on him physically and mentally.
However, the 29-year-old says a year off - and becoming a father - have made him change his mind.
"Having a break breathed new life into me," said Kenny.
Speaking to BBC sports editor Dan Roan, he added: "I was pretty happy with my decision to walk away and never come back. I started looking at other jobs that I can do. I was quite serious.
"I'd done it for 10 years and I'd never had more than a couple of weeks off. This is the first time I've stepped away and switched off and been myself.
"I started doing other things. I was going swimming and taking the dogs on epic walks. But it turns out I was rubbish at swimming and got bored of that really quickly.
"I started training again and I thought I might try a bit of a comeback. I did a couple of efforts and they weren't great results, but I felt like I did when I was 18. I felt refreshed."
'It's not about individual glory any more'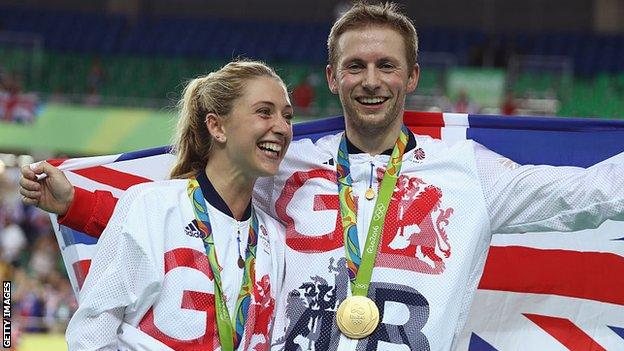 Kenny's relationship with fellow Team GB cyclist Laura Trott - a four-time Olympic champion - became public at London 2012.
The pair married last year after returning from Rio and welcomed their son, Albert, last month.
Kenny said that the changes in his home life has changed his outlook on his career.
"She never pushed me to carry on but for her, when she was pregnant, it was quite difficult. She was exercising instead of training and then she got to a point where she had to down tools and stop," he said.
"I found myself giving pep talks saying: 'You can come back, it's fine.' I talked myself into it while keeping Laura's chin up.
"We've got responsibilities at home and I think your motivations do change a little bit. It's not about the individual glory any more."
Back on the track
Kenny will return to the track for the first time since winning gold in the keirin final at Rio 2016 when he competes in the Manchester leg of the Revolution Series on 6 January - the start of his journey towards the Tokyo Olympics in 2020.
Kenny is level with former team-mate Sir Chris Hoy on the most number of gold medals won by a Briton at the Olympics.
Two more medals of any colour would make him Great Britain's most decorated Olympian of all time, moving him ahead of Sir Bradley Wiggins.
"My short term goal is to get some points, get back in the team and get competitive, with the goal of making another Olympics," he added.
"When you see your name alongside those guys then it is really special but I've never been motivated by chasing records. For me, it's about being the best I can be.
"It's going to be really challenging but I'm hoping I'll get something out of it. I feel like I'm 18 again. Except I do click a bit more these days."