Katie Archibald: World omnium champion to join road racing team in 2018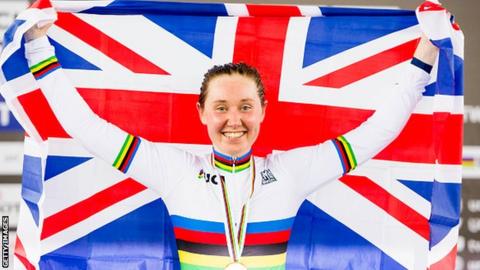 Scottish cyclist Katie Archibald will join road racing team Wiggle High5 in 2018.
Archibald, 23, will still compete on the track, but hopes to add road racing honours to her list of accomplishments.
"I've joined Wiggle High5 to take the next step in my professional career," Archibald said.
"My targets and hopes for selection in a Wiggle High5 jersey include Setmana Ciclista Valenciana, Tour de Yorkshire and The Women's Tour."
Archibald has won two world titles and an Olympic gold medal as part of Great Britain's track team, and insists her desire to test herself on the road has not diminished her appetite to win more medals in the velodrome.
"I have two major personal goals for 2018," she added.
"The first is the track world championships in March, at Apeldoorn Velodrome, where I hope to defend my omnium title.
"Following this, in April, I hope to tackle both the track and road events at the Commonwealth Games in Gold Coast, Australia. For the former of these I'll be in a GB jersey and the latter a Scotland jersey."
Elinor Barker, who alongside Archibald won gold in the team pursuit for Britain at the Rio 2016 Olympic Games last summer, has also agreed to join Wiggle High5 next year.
"I've been following Katie's career for the past four or five years and she has always been an athlete I've desired to work with," said team owner Rochelle Gilmore.
"As her strength on the road has been developing year by year, her increasing desire to achieve road racing goals has been something Wiggle High5 really wanted to be a part of.
"While already an Olympic champion on the track, Katie is still an unknown talent on the road, we've seen glimpses of what she's capable of and we look forward to providing her with the opportunity to recognise her full potential on the road."