Chris Froome: 2018 Tour de France a 'massive challenge'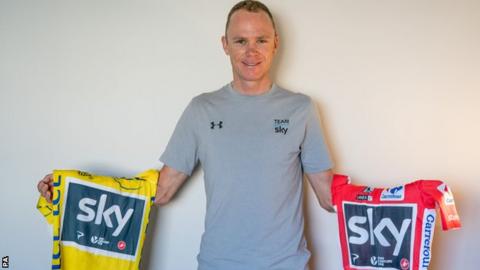 Britain's Chris Froome says he faces a "massive challenge" to win his fifth Tour de France, as the route for the 2018 race was announced on Tuesday.
The 105th edition will run from 7-29 July and be the shortest route of the 21st century, covering 3,329km.
It will start with a 195km stage in the Vendee region and stage nine to Roubaix includes 21.7km of cobbled road.
There is a return for the famous climb and finish up Alpe d'Huez on stage 12, while the shortest stage will be 65km.
Race director Christian Prudhomme expects stage 17, the "shortest normal stage of the last thirty years" to be "dynamite" given it features a brand new final climb of 16km at an average gradient of more than 8%, and finishes at an altitude of 2,215m.
Stage three will be a team time trial and the penultimate stage could be a potentially crucial hilly individual time trial from Saint-Pee-sur-Nivelle to Espelette.
"I wouldn't expect anything different from the organisers," said Team Sky's Froome, 32, who has won the Tour in four of the past five years.
"It is a massive challenge for next year and a Tour de France that tests every aspect of cycling."
Britain's Mark Cavendish, who has 30 stage wins at the Tour de France and is chasing Eddy Merckx's record of 34, said the 2018 route was "absolutely brutal".
The 32-year-old sprinter withdrew from the 2017 tour after breaking his shoulder blade in a collision with Peter Sagan during the sprint finish on stage four.
"Some of the toughest stages I've ever seen," he said on Twitter, adding that he did not believe many sprinters would finish the race in Paris.
Only 15km of the race will take place outside France, when it goes into Spain on stage 16.
"We especially wanted to emphasise stage variety and the routes that may prove decisive, whilst combining legendary climbs with brand-new ascensions or ultra-dynamic formats, to provide a vision of modern and inspired cycling," said Tour director Christian Prudhomme.
At the announcement of the route, Froome was awarded the 2017 Velo d'Or - the Velo magazine rider of the year prize - for the third time after also claiming it in 2013 and 2015.
It is in recognition of becoming only the third man to win the Tour and Vuelta a Espana in the same year.