European Track Championships 2017: Britain win silver in women's team pursuit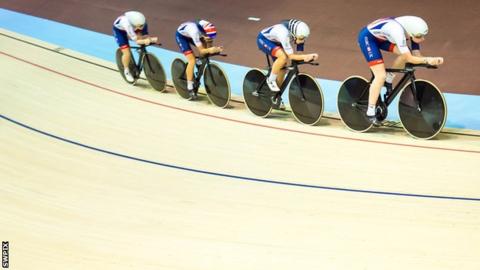 Great Britain won their first medal of the European Track Championships in Berlin with silver in the women's team pursuit.
The British quartet of Olympic champions Katie Archibald and Elinor Barker alongside Manon Lloyd and Emily Kay were beaten by Italy in the final.
Eleanor Dickinson, 19, finished fifth in the women's elimination race.
Chris Latcham, a bronze medallist at the World Championships, was 10th in the men's scratch race.
The women's sprint team of Sophie Capewell and Katy Marchant and the men's sprint trio of Olympic champion Philip Hindes, Jack Carlin and Joe Truman lost their first-round races to Germany.
'I was dizzy and hit my head quite hard'
Britain's men's team pursuit team failed to reach the finals after Andy Tennant crashed on the final corner of the qualification race.
Tennant, who was suffering from dizziness, left the track on a stretcher and Britain did not finish Wednesday's race.
"I don't actually know what happened," said the 30-year, who was treated by paramedics but recovered fully.
"I remember hearing the bell but then I don't remember anything after that point, apart from (coach) Ian Dyer picking my legs up and me asking him to take my shoes off.
"I got up and then fell back down on the floor. I was dizzy and obviously hit my head quite hard."
British Cycling later confirmed that Tennant will return home on Friday and take no further part in the championship.
The GB team - Tennant, Kian Emadi, Mark Stewart and Steven Burke - were on course to qualify.
But Emadi had swung off by the time Tennant crashed, meaning Britain did not have the three riders needed to cross the line.
The championships finish on Sunday.
Great Britain team:
Women's sprint: Sophie Capewell, Katy Marchant.
Men's sprint: Jack Carlin, Philip Hindes, Ryan Owens, Callum Skinner, Joe Truman.
Women's endurance: Katie Archibald, Elinor Barker, Eleanor Dickinson, Emily Kay, Manon Lloyd.
Men's endurance: Steven Burke, Kian Emadi, Chris Latham, Mark Stewart, Andy Tennant, Ollie Wood.