Tour of Hainan: Chinese cyclist Wang Xin expelled over attack on rival team
Last updated on .From the section Cycling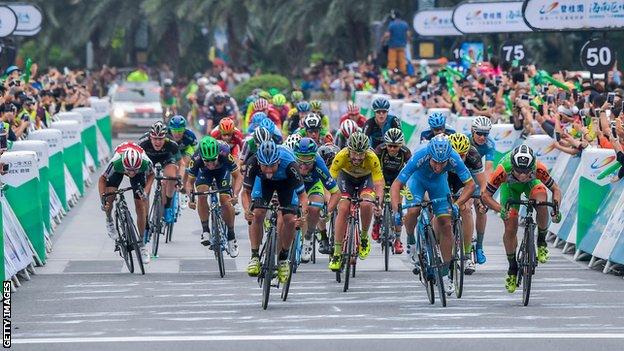 A rider who violently attacked a rival team and was expelled from the Chinese island of Hainan faces further sanction from the country's cycling authorities.
Video footage shows Wang Xin of the Keyi Look team punching and kicking at two members of the Swiss team, before retrieving a foot pump from a car boot.
At that point police stepped in.
Earlier on the Tour of Hainan stage, Wang threw a water bottle at the Swiss team's car window, apparently blaming them after crashing to the ground.
The Chinese Cycling Association said it "strongly supported" race organisers' decision to expel Wang and his team, adding that it will itself "collect evidence and investigate further".
Swiss Cycling team manager Danilo Hondo denied that his car struck Chinese rider Wang.
"We never bumped into him, you can see that from the race video," he told Eurosport.
"He simply hit the back wheel of another rider and went down. He was obviously embarrassed and took out his frustration on us.
"We tried to approach him after the race, in fact we waited 45 minutes after the finish to apologise for any misunderstandings and to show him and his team that we respect them and meant no harm.
"But both he and his team approached us with anger and everything escalated from there."
Wang and his Keyi Look team apologised in statements on Weibo, China's equivalent of Twitter, but continued to blame the Swiss car for knocking him over, the AFP news agency reported.
Tour of Hainan organisers said Wang and his team would never be allowed to return.
"Wang's behaviour is not acceptable and doesn't reflect Chinese cycling. Hainan people are known for being very friendly," a statement read.
"The team was instructed to leave the island of Hainan on the spot and will not be welcomed back. The image and the reputation of the Tour of Hainan cannot be tarnished by such improper behaviour. Fighting will never be permitted in this event."