British Cycling: Team Sky 'gamed system' over use of therapeutic use exemptions

By Dan Roan
BBC sports editor
Last updated on .From the section Cycling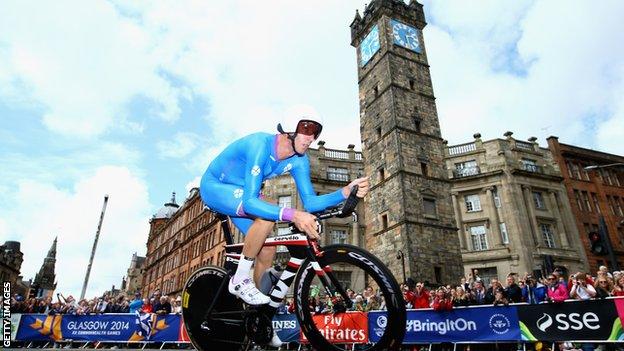 Team Sky have been accused of "gaming the system" by seeking permission for their riders to take otherwise banned drugs on the basis of medical need.
British former professional cyclist David Millar has told a BBC documentary the team's use of therapeutic use exemptions (TUEs) was "incredibly disappointing".
But Shane Sutton, a former senior coach at both Team Sky and British Cycling, told the programme - to be aired on BBC Two on Sunday - that he and his riders "never crossed the line".
However, he did concede that TUEs may have been used to "find the gains".
The Australian's management style also comes under scrutiny, with the revelation a former sports psychiatrist at British Cycling developed serious concerns about Sutton's treatment of riders in 2012.
Sutton and former performance director Sir Dave Brailsford dismiss concerns over an alleged "culture of fear" - with Brailsford even suggesting the sport is at risk of going "soft" and more likely to breed losers than winners.
'Don't cross the line'
Cycling's Superheroes; The Price of Success tells the story of the project which led to British riders delivering 38 medals in three Olympic Games, and provide four of the past five winners of the Tour de France.
But with the sport engulfed in crisis since the 2016 Rio Games, the hour-long film also examines the cost of that unprecedented glory.
Sutton is asked in which circumstances he would have applied for a TUE to get permission for a rider to use a prohibited drug on medical grounds.
"If you've got an athlete that's 95% ready, and that little 5% injury or niggle that's troubling, if you can get that TUE to get them to 100%, yeah of course you would in those days," he said.
"The business you're in is to give you the edge on your opponent… and ultimately at the end of the day it's about killing them off.
"But definitely don't cross the line and that's something we've never done."
Sutton is also asked whether "finding the gains might mean getting a TUE".
He replies: "Finding the gains might be getting a TUE? Yes, because the rules allow you to do that."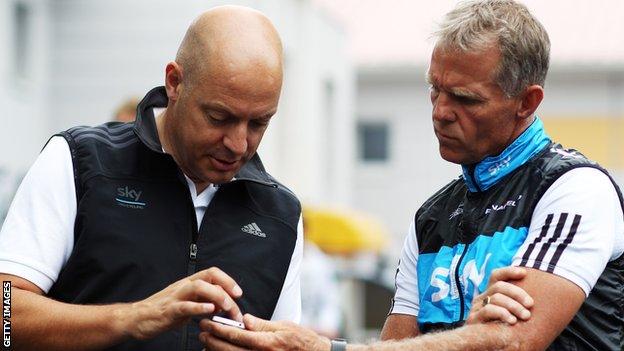 'A little bit of me died'
Sutton's comments come amid continued controversy over the three TUEs granted to Sir Bradley Wiggins before major races in 2011, 2012 and 2013.
Wiggins' use of the corticosteroid triamcinolone to treat asthma and allergies was revealed when hackers released medical files stolen from the World Anti-Doping Agency (Wada) last year.
The 2012 Tour de France winner's TUEs were approved by the authorities and cycling's world governing body the UCI, and there is no suggestion he or Team Sky broke any rules. Both have strenuously denied any wrongdoing.
However, Millar - who was banned for two years in 2004 after admitting doping and now works as a pundit and anti-doping campaigner - said: "Do I think they were gaming the system? Yeah, I think that's quite obvious, I think we all know that.
"It's incredibly disappointing. Team Sky was zero-tolerance, so you'd think that would mean you wouldn't tread into that very grey area of corticosteroid use, because it is performance-enhancing. So when I heard that it was like, 'seriously?'.
"A little bit of me died to be honest with you. I thought you guys were different."
Millar has described triamcinolone as the most potent performance-enhancing drug he has ever used. "It made EPO feel weak," he tells the film.
This week, UK Anti-Doping (Ukad) announced there would be no charges over a mystery medical package delivered for Wiggins at the Criterium du Dauphine in 2011.
The ruling followed a 14-month long investigation into allegations of wrongdoing at British Cycling and Team Sky.
The medic involved, Dr Richard Freeman, said it was a legal decongestant and not triamcinolone as was alleged, but Ukad said it was hampered by a lack of medical records.
Wiggins described Ukad's investigation as a "witchhunt" and said he had been subject to a "living hell". Both he and Team Sky have repeated that they did nothing wrong.
Freeman, who said he was not well enough to give evidence to either Ukad or a parliamentary select committee, is understood to have asked his bosses at British Cycling if he could take part in the film.
They agreed to his request, but he subsequently resigned from his position due to ill health and declined to be interviewed.
'Hostility and aggression'
Sutton left his role as technical director at British Cycling last year following bullying and discrimination allegations. He was criticised by an independent inquiry, which found he operated within a "culture of fear".
Sutton was cleared of eight of nine allegations in an internal investigation following the initial complaints from cyclist Jess Varnish, but a complaint that he used sexist language towards her was upheld. Varnish is now suing British Cycling and UK Sport.
However, in the film, Dr Steve Peters - the psychiatrist who has played a central role in the success of British Cycling - reveals that in 2012 he told Brailsford of his concerns about Sutton's behaviour.
"Shane would start to sort of cajole the athletes and they would feel that they were being intimidated or bullied - some of them, not all. Some of them welcomed it and said, 'no, this really gets me back in line again'," said Peters.
"I don't think there was any malice there, I don't think he meant anything wrong, but I got to the point after London - we waited until after the Olympics - that I went to Dave and said: 'It can't continue.'
"I think Shane's very passionate and he contributed significantly to the success of the team but if something wasn't going right, Shane took it on his shoulders. That if this team didn't succeed in London, for example, then it was his fault, and that meant terrible pressure on him.
"And Shane himself would admit that sometimes his passion overran and then it might turn into what most people would see as hostility or aggression."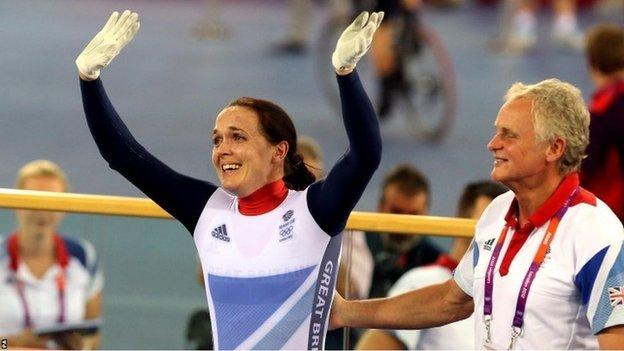 British Cycling conducted an internal investigation into the climate and culture of its world-class programme in late 2012, but the full details of the behavioural and management issues it highlighted were never passed on to UK Sport.
Despite Peters' concerns, Sutton was promoted to technical director of British Cycling in April 2014, when Brailsford left to concentrate on his role as general manager at Team Sky.
'Fear doesn't come into it'
Sutton defended his approach, saying: "You can rule out the whole 'fear'. I love that word 'fear' - you're looking at a bloke here, 60 years of age, 65 kilos, and people fear you? You got to be kidding me, come on. No, fear doesn't come into it at all. Dave just set the bar high."
When asked about Varnish's claim he had told her to "go and have a baby" after she was dropped from the Olympic programme before the Rio Games, Sutton said: "Definitely not.
"There's been a lot made of that. I actually laugh about it when I think about it. Did I ask her to lose some timber? If that's what you want to ask next? Yes, for sure.
"I was hurt by what was said - I'd have walked across hot coals for those riders, I'd do anything for them."
Brailsford also dismisses concerns over the culture he led.
"Was it intense? Yeah, for sure," he said. "For some people, pretty intense. For all of us. But it wasn't fear-based. I wouldn't run an organisation based on fear or bullying.
"It worries me at the moment where it's at, because it's become too soft, really.
"Life's not about being soft - life's tough. That's the reality of life and I want us to win. I want us to be proud of our nation - a nation of winners and I want to be part of that. I don't want to be a nation of losers."