Chris Froome: Pat McQuaid says Briton's adverse drugs test is a 'disaster' for cycling
By Dan Roan and Patrick Nathanson
BBC Sport
Last updated on .From the section Cycling
Chris Froome's adverse drugs test is "a disaster" for cycling that could lose Team Sky all its credibility, says the ex-head of the sport's governing body.
Pat McQuaid, president of the UCI for eight years, told BBC Sport it is "a huge shock... troubling and worrying".
Froome had double the permitted level of legal asthma drug salbutamol in his urine in his 2017 Vuelta a Espana win.
On Saturday, former UCI president Brian Cookson admitted he knew about the test before stepping down in September.
Froome has not been suspended, but if he fails to explain the result, he could be stripped of the Vuelta title and banned.
McQuaid, who led the UCI between 2005 and 2013, feels it will be "very hard to avoid a ban".
The Irishman was succeeded as president in acrimonious circumstances by former British Cycling chief Cookson, who was at the helm at the time of Froome's abnormal drugs test on 7 September.
Cookson, who was replaced as president himself two weeks later, praised Team Sky last week, telling the BBC their reputation should be "reinstated" despite this year's issues.
When asked by BBC Sport at the time if he was made aware of four-time Tour de France winner Froome's adverse test, he denied he had any "role or influence" in the case.
In a statement released on Saturday, Cookson said he "was informed in the last 24 hours of my tenure".
"When I left the UCI the following day, the matter passed to the new president and, rightly, I was no longer informed about the matter," he added.
McQuaid, who was among those heavily criticised in a landmark report published in 2015 into the sport's troubled recent history, said he was "really surprised" at Cookson's defence of Team Sky.
"How Brian, knowing all of those facts, could turn around and say, 'you need to hand their credibility back to Team Sky', I just don't understand it, it's beyond me," said McQuaid.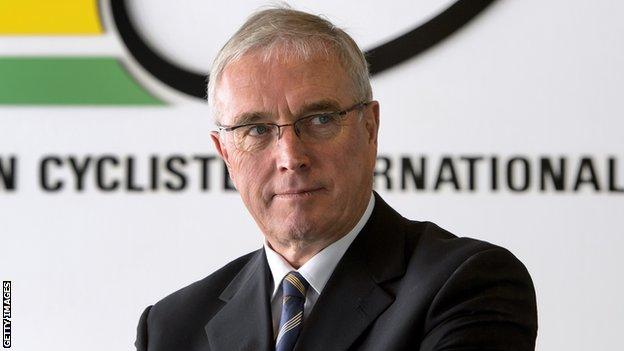 'It begs a lot of questions'
Froome says his legacy will not be tainted by this week's news and told BBC Sport he knows "exactly what the rules are" around his use of salbutamol.
However, McQuaid said: "The fact is, he has broken a rule. The fact is his urine sample was twice the permitted limit. It's up to him to go and prove that he could have done otherwise.
"We're now three months down the road, and they haven't found a solution or a resolution to it yet."
Sky team principal Sir Dave Brailsford said he has "the utmost confidence" that Froome followed guidelines, but McQuaid believes the news will further damage the team's reputation.
Earlier this year, Team Sky were investigated over the 'mystery' medical package delivered to Sir Bradley Wiggins at the Criterium du Dauphine in 2011 - although they were not charged - while Josh Edmondson says he secretly injected himself with a cocktail of vitamins during his time with the outfit.
"They've had a very difficult 15 months," McQuaid said. "They set out to be the clean team that was going to bring back the credibility of cycling and they have gone in the opposite direction this year.
"They are a team with by far the biggest budget and they can afford all of the experts and medical back-up and all of the things that a lot of teams can't afford and they find themselves in this situation.
"It's going to be very difficult to see how they can come out of this with any credibility at all. It begs a lot of questions."